BlackBerry CEO says Android and Windows Phone are "not mobile computing platforms", BB working on new tablet projects
35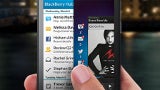 Can Android and Windows Phone be called true "mobile computing platforms"? If you ask the definitions published in Wikipedia - yes. If you ask BlackBerry boss, Thorsten Heins - no.
In an interview to Computerworld Australia, Heins has said that his company considered offering BlackBerry services to Windows Phone and Android at one point, but eventually decided that neither WP, nor Android share BlackBerry's vision of mobile computing future, where mobile devices are capable of executing the same tasks as desktop computers. In this regard, the CEO has said that Windows Phone and Android aren't true mobile computing platforms.
Apparently, Heins considers the new BlackBerry 10 something much more than the most popular operating systems currently on the market. However, it doesn't become clear in what ways the latest BB OS is better than iOS, Windows Phone or Android.
On another note, Heins says that while BlackBerry doesn't have anything new to announce on the tablet front right now, the company is "running a few projects" to discover ways of taking it to the next level and come up with a different kind of tablet, not just a copy of what's already available on the market.
source:
Computerworld
via
Neowin