BlackBerry CEO calls for a law to oblige developers to make their content available for BB OS
68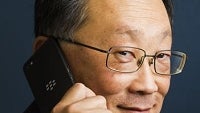 In the midst of another flurry of Net Neutrality discussions, BlackBerry CEO John Chen has seen fit to draw analogies and proclaim app neutrality to be just as important. The message comes in the form of an open letter, sent to various members of US senate and president Barack Obama.
Mr. Chen describes how BlackBerry has been able to stabilize from the state of constant plummet thanks to opening its service up and providing its
BBM
messenger app and
BES
device manager to all major platforms.
In contrast to that, Mr. Chen says, Apple withholds its iMessage service from the non-iOS world and companies like Netflix is
refusing
to create an app for BlackBerry users. It is here, where the CEO likens this situation to the Net Neutrality issue – as iOS and Android users have had access to more applications on their mobile devices, therefore – access to a wider variety of Internet services, BlackBerry users appear as a lower tier of consumers, being nigh discriminated against. As a solution to this, John Chen asks that a law be put in place, forcing app developers to release their work not only for iOS and Android, but BlackBerry as well, ensuring that everyone has access to the same kind of content.
We have to say, while some of these words ring true at some level, third party developers should have the freedom to choose which platform they spend their time developing for. Some will invest the precious resource in a single platform only, making a premium product they usually charge slightly more for. Others churn out apps for every OS there is, pricing them low or infesting them with ads / in-app purchases. Ultimately, though, it is a business decision, which, if taken away from the developers with such a law, could raise a lot more red flags than it's trying to put down.
At least that's our take on it – what do you think?
source:
BlackBerry
via
Pocket-lint