Netflix: BlackBerry does not have the volume
29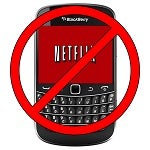 For those loyal BlackBerry fans that are hoping against hope, waiting with baited breath, or downright turning blue from holding their breath, just exhale already.
Netflix CEO Reed Hastings has shuffled away any inquiries during an interview about the video streaming service supporting BlackBerry 10, or any BlackBerry devices for that matter while visiting Toronto yesterday.
Known for being a bit of a gadget guy and trying new technology out to stay up-to-speed on things, Mr. Hastings was asked if he had tried any of the new BlackBerry 10 devices yet. He acknowledged that he had not, and that he was a BlackBerry addict up until around the release of the iPhone. "We don't currently support streaming on the BlackBerry," noting that it is a "unique" OS, "unfortunately, there's just not enough volume for entertainment [apps]."
Claiming that users of BlackBerry do not interact with their devices in the same way as an iPhone or Android user (or Windows Phone apparently), the BlackBerry does not have the volume demand what would warrant support.
It strikes us as a bit odd of a position to have though. Netflix supported Windows Phone from the beginning when that platform had no volume what-so-ever. BlackBerry has a solid 80 million strong user base, even if just 10% were to sign on to Netflix, that certainly would not hurt its volume. Plus, the architecture of BlackBerry has changed, BlackBerry Internet Service (BIS) is no longer part of the equation on the new BlackBerry 10 devices. So, any obvious technical hindrances that might have existed before are gone.
Since Mr. Hastings is a claimed gadget guy, it might take someone actually handing him a
Z10
and
Q10
to use for a while. Until such time however, you may as well resume breathing and return to "getting things done."
source:
CTV News