Big data from smartphones and smartwatches named some of 2013's top 10 breakthrough tech
5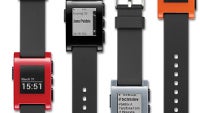 With a smartphone in every pocket and Pebble finally arriving to its first backers,
big data from smartphones and smartwatches
made it into the top 10 breakthrough technology of 2013 in MIT Technology Review's yearly rankings.
To be perfectly exact, it was big data from cheap phones that made it there as smartphone prices have finally dropped to low-enough levels to make them truly massive. This has huge implications for society. For instance, data from phones in a region in Kenya allowed to better understand the reason for malaria spreading around and contain it in the future.
Smartwatches on the other hand have been around for a while, but in 2013 with the launch of the
Pebble
they are starting to get some momentum they lacked previously. With Bluetooth 4.0 with its low energy profile and in a combination with a smartphone, one might just realize that smartphones may help our lives without ever leaving our pockets.
The other 8 breakthrough technologies of 2013 were deep learning, temporary social media with self-destructing messages, pre-natal DNA sequencing, additive manufacturing, Baxter: the blue-collared robot, memory implants, ultra-efficient solar power and supergrids.
source:
MIT Technology Review