Before the Moto X, there was the Motorola DROID X
25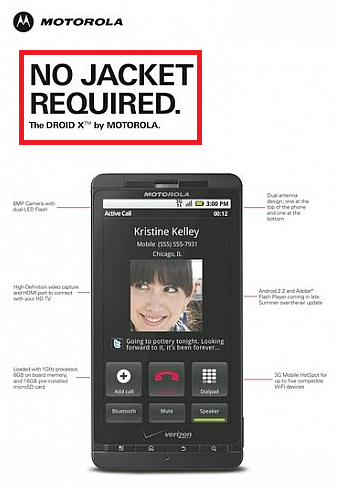 Motorola's full-page ad for the DROID X made fun of the Apple iPhone 4's connectivity problem
It was November 5th, 2009 when the
Motorola DROID
was launched. A Verizon exclusive in the U.S., Big Red finally had its iPhone challenger. And with Android 2.0 on board, Google's open source operating system was about to become the most popular mobile OS in the world. While many Verizon customers adored their device, only 8 months later some of them were ready to upgrade to a particular new phone with a huge (for the times) display and a unique design that set it apart from other handsets. We are talking about the
Motorola DROID X
.
The first thing that stood out about the DROID X was the 4.3-inch screen, half an inch larger than the DROID's display. At the time, many believed that this was the peak and that consumers couldn't hold a phone with a larger screen. Today, a 4.3-inch screen would be considered small. Judging from the 6.2-inch screen on the
Samsung Galaxy S8+
, those who thought that the DROID X was as big as a flagship smartphone screen would get were nearly 2 full inches wrong.
Motorola used the DROID X in a couple of ads poking fun at Steve Jobs and the
Apple iPhone 4
. As many of you recall, Jobs blamed consumers for the antenna-based connectivity problem that marred the launch of the first major iPhone re-design. The late executive said that iPhone 4 users were holding the phone wrong. Motorola responded with a full-page ad in the
New York Times
that pointed out that the DROID X was the kind of phone
that could be "held any way you want."
When Apple decided to send out free rubber bumpers to iPhone 4 owners as a way to fix the connectivity issue, Motorola struck again with another full-page ad. This time, the manufacturer said that with the DROID X, there were "No jackets required."



The Motorola DROID X carried that aforementioned 4.3-inch screen with a 480 x 854 resolution. Under the hood you would have found a TI OMAP single-core chip, running at a clock speed of 1GHz. 512MB of RAM was inside along with 8GB of native storage. Motorola added a 2GB microSD card that was pre-installed on the phone. Users ended up with 6.5GB of internal storage at their disposal. The rear camera weighed in at 8MP and the 1540mAh battery could be removed. The DROID X launched with Android 2.1 running the show, and received updates to Android 2.2 and Android 2.3.

In May 2011, the Motorola DROID X2 was launched. Looking exactly like the OG model, Motorola was lambasted for making just a few changes to the phone. The resolution of the 4.3-inch screen was hiked to 540 x 960, and the NVIDIA Tegra 2 chipset came with a dual-core 1GHz CPU. Just about everything else was the same.

To say that we were impressed with the Motorola DROID X would be an understatement. We gave the DROID X a 9.5 out of 10 in our review, which you can read by clicking on this link.