New Motorola ad takes on Apple and the iPhone 4-again
27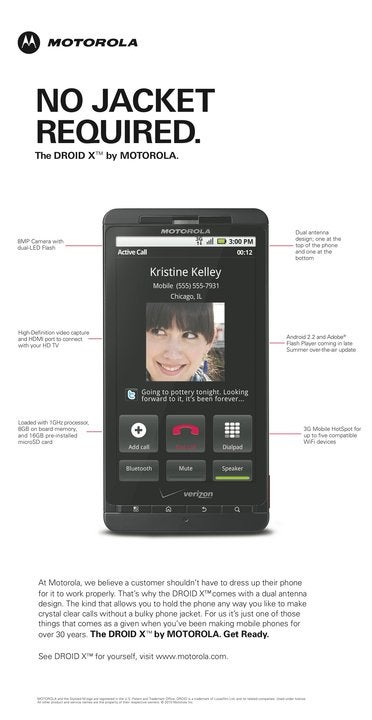 Remember a few weeks ago
when Motorola placed a full page ad in the New York Times for the DROID X? The ad copy took direct aim at the connectivity problems that the iPhone 4 has been having by saying that the DROID X could be held in any pose, unlike the iPhone 4 which drops calls and loses signal strength when gripped on the lower left corner. This time, Motorola takes aim at the bumpers that Apple has sent out to iPhone 4 owners to stop the antennas from de-tuning.
The headline of the ad, No Jacket Required, aims right at Apple's iPhone 4 Case Program just as Apple has started shipping out the cases as we
reported
yesterday. The ad reads, "At Motorola, we believe a customer shouldn't have to dress up their phone for it to work properly. That's why the DROID X comes with a dual antenna design. The kind that allows you to hold the phone any way you like to make crystal clear calls without a bulky phone jacket. Motorola 2, Apple 0.
Motorola DROID X Specifications
|
Review
Apple iPhone 4 Specifications
|
Review
source:
AndroidGuys