Battery starts swelling on a Samsung Galaxy Note 5
45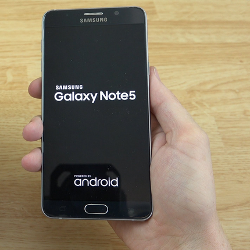 Thanks to the second recall of the
Samsung Galaxy Note 7
, stories about the phablet exploding have pretty much slowed to a crawl. But that doesn't mean that we won't hear about battery issues with other phones.
A few iPhones have exploded
, and
a man is suing Samsung for the second and third degree burns he suffered
when his
Samsung Galaxy S7 edge
exploded in his pants pocket.
Today, one of our loyal Phone Arena readers sent us pictures showing how the battery inside his
Samsung Galaxy Note 5
swelled up enough to open the casing on the phone. Keep in mind that the Galaxy Note 5 was just last year's model since
Samsung skipped the Galaxy Note 6 and went straight to the Galaxy Note 7
when naming this year's device.
Our source had owned his Galaxy Note 5 for about a year. About a week ago, he noticed a change in the behavior of the battery inside the phone. It started to drain quickly, while at the same time it would take longer for the cell to charge up. His first thought was that the charger was failing him, until the phone started shutting down at 15%, 25%, 60% and 90% progressively. When he plugged the Galaxy Note 5 into the charger, it would show that the phone had 0% charge.
Thinking that the problem had to do with software, he quickly changed his mind when he noticed that the case on his phone started to rise. Taking off the case, he quickly noticed that the battery was swelling. At that point, he stopped charging the unit, fearful that it would explode like the Galaxy Note 7 did. While the particular phone is under warranty, it was purchased from Amazon. According to our source, that means that the warranty is only available in Saudi Arabia. Thus, he will be paying out of pocket to replace the defective battery.
This is not the first Samsung model that he says that he has had problems with as his letter to us mentions an issue he had with the
Samsung Galaxy S4
. He says that the Galaxy Note 5 will be his last Samsung phone ever. That comment would align him with the 40% of Samsung owners surveyed who recently said that
they would never buy a Samsung handset again
.
You can check out the images of the defective battery on our reader's Galaxy Note 5 by clicking on the slideshow below. While the swelling isn't tremendous, it still is an indication that there is a problem with the battery and that the phone should not be used since a major malfunction is possible. Keep in mind that before the Galaxy Note 7 units started exploding, they had a perfectly normal appearance before catching on fire.
Thanks for the tip!