Ballmer: Microsoft needs to find the right path to travel in mobile
59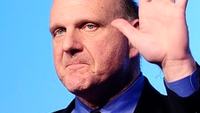 There is no question that Microsoft's smartphone business strategy is, well, unfocused. And nobody knows that better than former CEO Steve Ballmer. Sure, the L.A. Clippers owner has different problems to attend to these days (like Blake Griffin), but he still keep tabs on the company that he used to lead. According to Ballmer, Microsoft needs some direction when it comes to mobile phones.
Ballmer said that when it comes to mobile, he had put the company on a path which was changed
when the board decided to buy Nokia Devices and Services in 2013
. Current Microsoft CEO Satya Nadella needs to have a "clear path" when it comes to mobile, according to Ballmer, and he is sure that Nadella will eventually get there.
There are some who believe that Nadella and Surface chief Panos Panay have made things difficult on purpose for the Lumia line so that the company could concentrate on building a Surface Phone. All signs do point toward a launch in the second half of the year for a Surface Phone handset. In fact, if you go to www.surfacephone.com,
you will be redirected to Microsoft's Global Surface website
.



"And the company really has to chart a direction in mobile devices. Because if you're going to be mobile-first, cloud-first you really do need to have a sense of what you're doing in mobile devices. I had put the company on a path. The board as I was leaving took the company on a path by buying Nokia, they kind of went ahead with that after I told them I was going to go. The company, between me and the board, had taken that sort of view. Satya, he's certainly changed that. He needs to have a clear path forward. But I'm sure he'll get there."-Steve Ballmer, former CEO, Microsoft


A report released late last year indicated that the Surface Phone would focus on productivity, not specs. And based on Steve Ballmer's comments, this wouldn't be the path that he started when his name was on the CEO's door. But that is all water under the bridge. Windows Phone is a distant third behind iOS and Android and it is going to take something extraordinary to change that.

source: BusinessInsider