Attack of the clones: the "best", most audacious, and boldest Apple iPhone 6 copycats we've seen so far
55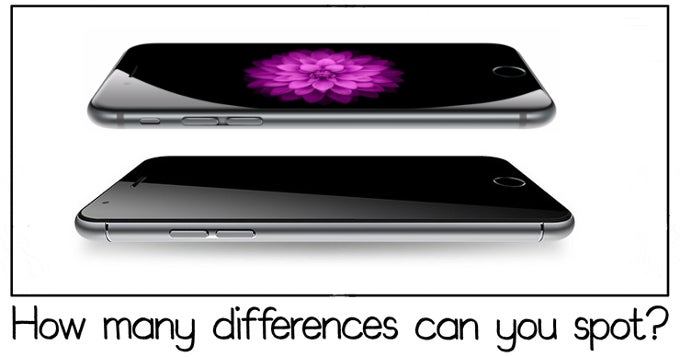 Apple is one of the leading smartphone manufacturers on a global scale and it's no news that its phones have always been imitated and copied by various known and unknown manufacturers. No, we wouldn't venture into the Wild West-worthy, patent-related courtroom saga between Cupertino and Samsung. We will turn our heads to some way more shameless and bold smartphone makers that have blatantly copied the looks of the Apple iPhone 6 and its UI.
It turned out that one can literally spend a whole day browsing the web for iPhone 6 copycats and hardly ever complete this Herculean task -simply put, there are hundreds of different devices that copy certain aspects of the device. It's impossible to list them all, yet we decided to highlight the "better" ones, those that copy almost every nit and bolt of the Cupertino flagship and are as similar to the record-breaking device as it gets.
Let's check them out right below.
Goophone i6S
Hands down, the most brazen and accurate iPhone 6 clone that we've stumbled upon. The Goophone I6S is such a "well-made" copy of its progenitor that we thought the manufacturer used photos of a real iPhone at first. Then, we laid our eyes on the rear of the device – there is no logo on the back cover. Specs-wise, it comes with a 4.7-inch IPS display with a lowly resolution of 480 x 854 pixels, 512MB of RAM, 5MP camera, 4GB of native storage, and a 1,800mAh battery in store. The device comes with a dual-core chipset (just like the iPhone 6), either the MediaTek MT6572 or the MT6582 chipset.
Blackview Ultra A6
There's no side-positioned mute toggle on the plasticky Ultra A6 (a dead giveaway that it's not a real iPhone 6), but put a more concealing case on it, install an
iOS-like launcher
, and you will certainly fool a lot of folks that you've switched for an Apple flagship. Hmm, the home button looks a little weird, too, but we can't solely judge from the images below. Specs-wise, the Blackview Ultra A6 sports a 4.7" 720p display, a 1.3GHz quad-core MT6582, 1GB of RAM, 8MP rear camera/2MP selfie one, a removable 2,200mAh battery, 8GB of native memory, a microSD card slot, and Android 4.4.2 KitKat out of the box (which is probably a lookalike of the real deal as well). Price? Around $110.
Dakele Big Cola 3
Price: ~$174
Don't feel bad if you easily mistake this iPhone 6 copycat with the real deal. Put a case on it in order to hide the non-Apple logo at the back and the less-initiated will congratulate you for your new iPhone 6. The lack of a mute toggle on the left side of the phone and the additional slot for a microSD card on the Big Cola 3 are among the more notable differences. Underneath the hood, the Dakele Big Cola 3 boasts some respectable specs, which are nothing like the hardware inside the real iPhone 6. We have a 5", 1080p display panel at the front, which is covered with sapphire glass (reportedly). This Android phone is powered by a 64-bit, octa-core MediaTek MT6752 chipset, which is churning the gears at 1.7GHz in concert with 3GB of RAM. We also have 16GB of native storage, which supports memory cards of up to 128GB in size.
Texet iX-maxi
Price: ~$174
Coming from Russia, the
Texet iX-maxi
is hands-down the most brazen and spot-on clone of the Apple iPhone 6 that we've seen to date. However, specs-wise, however, it can hardly hold a candle to the Apple flagship in terms of hardware prowess. Sporting a 4.7-inch (obviously) LCD display with a resolution of 540 x 960, a quad-core MediaTek MT6582 running at up to 1.3GHz, 1GB of RAM, as well as 8GB of native storage. At the back we have a protruding 8MP rear camera/2MP front-facing one, and a 1,600mAh battery.
Vphone I6
Enter the Vphone I6, a device that is powered by a quad-core MediaTek MT6582 humming at 1.3GHz, 1GB of RAM, a 4.7-inch 720p display, 16GB of native storage, 16MP rear camera, and a 1,600mAh battery at the rear. It's running Android 4.2.2, which is naturally endowed with an iOS- like launcher and UI theme. This hardware setup makes sure that the Vphone I6 achieves a humble Antutu score of 17122 points. The manufacturer also wants us to be perfectly aware that the on-board "Play Store" is a noteworthy feature of its iPhone 6 clone.
Sophone I6
To be honest, the Sophone I6 is everything but a so-so clone of the iPhone 6. It's will be a cumbersome task to distinguish it from its prototype, which means that the manufacturer behind the Sophone has done its job extremely well. If you decide to jump on the Sophone I6 Plus bandwagon, you'd be able to choose what MediaTek chipset you want in your Sophone - a 1.3GHz MT6572 dual-core, a 1.4GHz MT6582 quad-core, or a 1.7GHz MT6592 octa-core chipset. These will be accompanied by either 512MB or 1GB of RAM, a 4.7" display, and up to 16GB of native storage. The Sophone I6 runs on Android 4.2 Jelly Bean, but at least it's themed to look like iOS 8.
Unnamed iPhone 6/6 Plus clone with MTK6582 chipset
The i6 and the i6+ are 1:1 clones of Apple's most recent autumn crop of devices. The replicas are, obviously, so brazen and shameless that the manufacturer had to hide certain aspects of the phone on the product photos (notice how the home button remains hidden in all of the images below!). Both the 4.7" i6 and the 5.5" i6+ both have modest specs - 1GB of RAM, quad-core MT6582 chipsets on board, 8MP rear cameras, and nano SIM card slots, among others. They run Android 4.3 Jelly Bean and apparently come with Google's service pre-installed.
Unnamed iPhone 6 clone with MTK6795 CPU
Endowed with such a non-cryptic name, this iPhone 6 clone is, hands-down, the perfect copycat. The exterior has been copied down to the very last detail (it's said that all of the materials used for the exterior are the same as the original iPhone's) and the Android-powered user interface is, naturally, a full-blown imitation of iOS 8. Specs-wise, this device is one of the better-spec'd clones - we are dealing with a 4.7" display with a 750x1334-pixel display, an octa-core MediaTek MT6795 chipset running at 2.5GHz, 2GB of RAM, LTE support, 16MP rear camera/8MP front-facing one, and either 16, 64, or 128GB of native storage. A fingerprint scanner also seems to be a part of the specs sheet. As far as software is concerned, it's stated that Android 5.0 Lollipop is the OS of choice, but then again, it's heavily-skinned so it's hard to say if this is the case indeed. As per the seller, the device is available in space grey, white, and gold, just as we suspected.