From Russia with love: this $174 Apple iPhone 6 replica is probably the best one we've seen till now
22

Let's face it, Apple's iPhone will be cloned and copied for a long time to come. We've already showed you one of the most impressive
iPhone 6
clones to date, the
Dakele Big Cola 3
, which runs Android (d'oh!) and comes with a triple the amount of RAM in its progenitor - 3GB. Well, we were somewhat sure that someone else will one-up the Big Cola 3 and its almost perfect representation of Jony Ive's latest design outflow. To us, it was as close as it gets to the perfect iPhone 6-like device. Until now.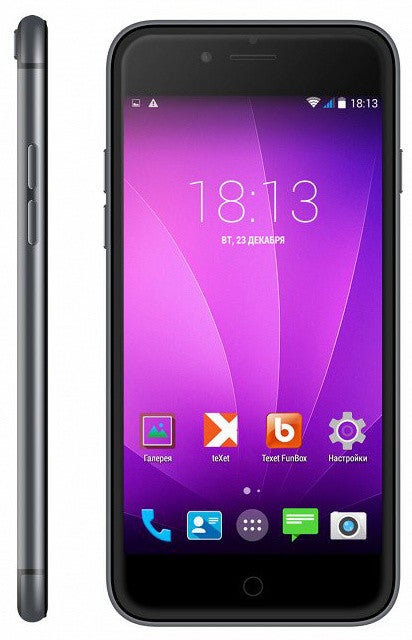 Out of the blue, we have a pretty solid new contender for Dakele Big Cola 3's title. Coming from Russia, the brand-new Texet iX-maxi is hands-down the most brazen and spot-on clone of the Apple iPhone 6 that we've seen to date.
Starting from the dimensions (138 х 67 х 7 mm for the iX-maxi vs 138.1 x 67 x 6.9 mm for the iPhone), moving on to the weight (127gr vs 129gr for the iPhone), and calling it a day with the exterior design (even the camera at the back is protruding!), the Texet iX-maxi can be easily used as a replica in a low-budget Hollywood flick.
Well, the Meizu MX4-like home button and the lack of a side-positioned mute toggle are a dead giveaway, but otherwise, the Texet iX-maxi is indiscernible from its real iPhone 6 counterpart.
Specs-wise, however, it can hardly hold a candle to the Apple flagship. Sporting a 4.7-inch (obviously) LCD display with a resolution of 540 x 960, a quad-core MediaTek MT6582 running at up to 1.3GHz, 1GB of RAM, as well as 8GB of native storage.

At the back we have a protruding 8MP rear camera/2MP front-facing one, and a 1,600mAh battery. We have no word The price tag? Roughly 12,000 Russian rubles, which translates to ~$174.