At least one Moto X backplate pic has been a Motorola DVX leak
4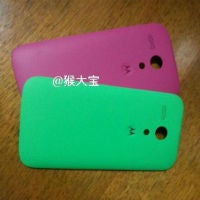 The
Motorola DVX
will be the low-cost smartphone from Motorola that will be aimed at emerging markets and prepaid markets. We've known that for a while, and recently we've been getting a bit more info here and there. We've seen
swappable backplates
for the DVX, we've seen the device pass through the
FCC
, and we've seen possible pricing leak.
The thing is about the DVX is that it looks quite a bit like the Moto X, at least from what we've seen so far. But, we've noticed that there is one small way to tell the two apart, and in doing so, we realized that a report we filed
back in July
is actually incorrect. It turns out that the only way (so far) to tell apart the two devices (other than the fact that one doesn't exist on the market yet) is that the Moto X has the
speaker grill
on the right side of the backplate, and the DVX has it on the left. The DVX backplate also looks a bit flatter, but it's hard to tell.
You can see the difference below, with the backplate that we had thought was the Moto X (but is the DVX) on the left, and the actual backplate of the Moto X on the right. We're likely to hear more about the device soon enough, since it is planned for release in the next few months. So far, it looks like Motorola could hit that
$200 off-contract
price point, we just have to see what kind of specs it will take to hit that mark.