The Moto X rumor flood threatens to drown us, as images of the rear panel surface
21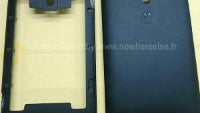 By now, we think you'll agree – 'leak' is no longer a sufficiently-descriptive word for what we're seeing.
This
is a
flood.
And it shows
no signs of slowing down
.
Anyhow, Weibo user
houdabao
has released some interesting snaps of the purported
Moto X
. As is the nature of these trickles of information, there's no telling whether what we're seeing is, in fact, the real deal or not. Regardless, bar a very eloquent hoax, the photos do appear to hold up to scrutiny – the snaps are obviously of the same device that we've been looking at for the past few days. This time, however, we finally have a clear peak at the rear of the customizable device – the black appears to bear a nice matte touch, whereas the white version sports a textured finish that we just loved.
Enough talk, make haste and head for the gallery, for we're sure you'll like what you see.
source: Weibo via
TechRadar