Motorola DVX (cheap Moto X) to have swappable color backplates
18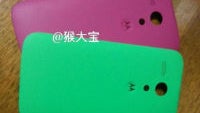 Back in June, we got a tip from our Motorola insider that the company was working on a low-cost device, codenamed the
DVX
, that would target emerging markets. In early August, Motorola CEO Dennis Woodside
confirmed that the device
was in development and said it would also be coming to the U.S. prepaid market. Now, we're seeing leaked pics of the device for the first time.
The pics come from a user on Sina Weibo, China's version of Twitter, and show swappable color backplates that could be used in the low-cost Moto handset. This would mean that rather than having to use the Moto Maker tool, customize your device, and lock in your choice, you would be able to simply buy a different backplate and change the color anytime you want.
The backplate doesn't look wildly different from the Moto X backplates. The speaker grill is on the opposite side of the camera, and the case isn't quite as tailored as the Moto X. The backplates for the DVX look to be basic rectangles without any flourish. Word has it that the DVX should be launching before the end of the year, so we should find out more soon enough.