Assembled new iPhone 5 leaks, claiming it's the real deal
70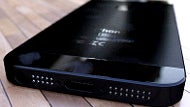 We've seen purported
schematics
,
front
and
back panels
of the next iPhone, but we haven't seen the thing assembled so far, and today's leak filled that inexcusable omittance.
The assembled iPhone back looks very much stuffed in that
unibody backplate that leaked last week
with the funky speaker grills, seems to be machined pretty well for a fake, despite the scuffs and scratches, and the source says there aren't traces of Photoshop wizardry, but we won't know until we see the real thing.
If the photos from an Apple blog are credible, the rumored
smaller dock connector
is confirmed, as well as a
larger display
and
chassis that seems mostly metal
, rather than glass. What piqued our interest were also the two circles on the back, which seem to be of the camera and the LED flash. While the camera one seems to be pretty interesting in itself, on one of the pictures the flash circle seems to be made of many LED flash "dots".
Of course, this is all pure speculation and wishful thinking right now, and we don't even know if the leak is real or not, so take a look at the pics in the slide below and tell us what you think of the eventual black housing - even the steel rim around the phone is dark now. Oh yeah, and don't ask us why is this thing running on AT&T, unless that screen is just a placeholder.