Apple patenting next generation camera flash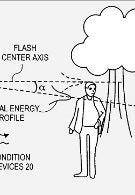 Apple's patents are notorious for their depth and complexity. Even the most mundane feature gets patented with broad wording, and attention to the slightest of details. After all, the company has a halo as one of the most innovative brands in the world.
A recent filing reveals that Apple is poking around, and trying to differentiate itself in an area, where it was playing catchup in the last few years - the digital camera flash. It was not until the iPhone 4 this year, when Apple's cell phones received a flash to aid in scene filling and low light photography. There are already rumors that Cupertino is changing its camera sensor supplier from
OmniVision to Sony
, for an
8MP shooter
in the 2011 iPhone, so camera overhaul is definitely on the menu. Of course, resolution is nothing without a quality sensor, backlighting and good scene illumination. Apple realizes very well that due to the fairly slow for today's standards hardware upgrade process of the iPhone - once a year - it needs to innovate in features that matter, and will keep people coming.
The patent is listing an idea that has been around for a while - an array of light sources, which can change their intensity, or some of them be turned off completely. Having smaller light sources around the camera lens, that can illuminate the scene at different angles and levels, could do wonders for low light photography with a digital camera. And we hope it can be miniaturized and done right. After you have all the smartphone basics covered, and all the apps you can handle, these incremental innovations can make all the competitive difference.
Now tell us do you want this in the next iPhone, or do you think it is just one of the numerous patents Apple is filing just in case?
source:
PatentlyApple