Alleged faceplate of the next iPhone hints at a slightly larger display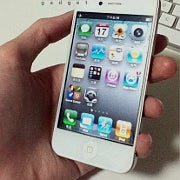 Last week we had a few white iPhone leaks - alleged
64GB prototype
came from Vietnam with unreleased version of iOS 4, then Vodafone UK
let out its white iPhone plans
, complete with pics and everything.
Now the same site that follows China gadgetry, and showed us how white iPhones made with
aftermarket conversion kits
are to be sold in quantities there, dug out a photo of a white iPhone faceplate that doesn't look like the official thing leaked from Vodafone.
mockup
, a white iPhone 5 prototype, or the rumored iPhone 4 handset with a fitted dual-core A5 chipset inside, that is supposedly finding its way into game developers' hands to start coding for the powerful silicon.
All we see is that the faceplate is different from the official deal (which is not even announced yet, but will be soon) - in proximity sensor design, and also in screen size and bezel.
The display looks slightly larger, thanks to the thinner bezel, and less space between the screen and phone edges. This coincides with the rumor that the next iPhone,
supposedly coming in September
, will be a slight upgrade to iPhone 4 externally, including a bump to a 3.7" display, from the current 3.5".
source:
M.I.C.Gadget