Asking Siri to turn rumored iOS 10 night mode on delivers intrepid response
11
We've been hearing about the inevitablity of a new,
"dark" iOS mode
that is coming with
today's iOS 10 unveiling
for a while now, but so far we didn't have much tangible info to corroborate on the matter. Well, it's
Siri again
that spills the beans about another new iOS 10 feature that is possibly in the pipeline.
When asked to switch dark mode on, Siri now replies that it apologizes, but it's not in her prerogatives to change that setting. The news here is that Siri refers to such a dark mode setting at all, instead of uttering something in the lines of "I don't understand," which is the go-to answer when there isn't such a mode present.
It looks like Siri's algorithms are being updated for the grand iOS 10 unveiling today as we speak, so we will be all ears to check if Apple indeed announces a darkened interface overlay for those late night reading sessions.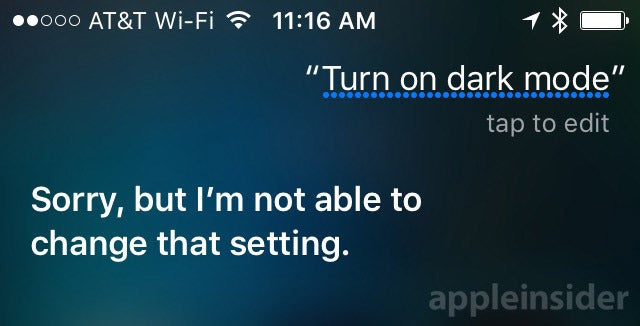 Recommended Stories