Apple's Siri hints at upcoming Mac OS integration
32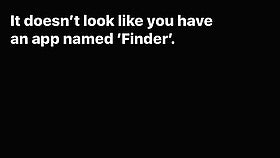 In the past few months, many unofficial sources have claimed that Apple is planning to update Siri with Mac support, although trustworthy proof to support these claims was hard to find. Yesterday, however, it was discovered that Siri itself hints at Mac support if asked just the right question.
An Apple enthusiast called Brian Roemmele has discovered that telling Siri to "open settings in the window" can trigger an awkward response. In some cases, Siri says that it can't find the Finder app, which is a central part of the Mac user experience.
Although this is far from a head-on confirmation, Siri does seem to suggest that Apple is working to integrate its virtual personal assistant in the next version of Mac OS.
Some rumors claim that Apple will talk about Siri for the Mac next week at the 2016 edition of the WWDC, the company's yearly developer conference. Even if this turns out to be the case, don't count on a final release happening until later this year when Apple is expected to introduce the next version of OS X. A beta release for early adopters, on the other hand, is definitely not out of the question.
We're definitely keen on learning more on this topic; in particular, we're interested in how Siri plans to cross-integrate actions across iOS and Mac OS X. From the looks of it, users will be able to interact with Siri on their iPhone or iPad and tell it to do something on the Mac. Sounds like an interesting feature for those who rock both an iOS device and a Mac OS X machine!
What do you guys think? Is anyone truly hoping for Siri to finally extend to the OS X platform?
Source:
Brian Roemmele
Recommended Stories