With 2016 gone, so is WhatsApp support for various operating systems
10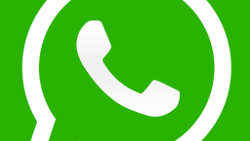 Once the final seconds of 2016 ran down and 2017 started, messaging app WhatsApp started implementing a previously announced plan to drop support for older smartphone operating systems. For example, those using iOS 6 or lower now can not use WhatsApp. Windows Phone 7 is no longer supported by the Facebook-owned app, nor are devices running Android 2.1 and Android 2.2.
Most of you out there don't have to worry about this change since it affects handsets that not too many people are currently using. For example, iOS 6 is the last version of Apple's mobile OS that runs the
Apple iPhone 3GS
. And Android 2.2 was the last version of the mobile OS used by the
Motorola DROID
. Notice any iPhone 3GS users around lately? Any one you know still toting the DROID, which launched in 2009?
Some of the operating systems that were supposed to lose WhatsApp support at the end of 2016 have received a reprieve for a few additional months. BlackBerry 10 and BlackBerryOS powered handsets were supposed to lose WhatsApp support yesterday. Now, the messaging app will continue to run on BlackBerry models using these operating systems through June 30th, 2017. Support has also been extended through that date for the Nokia S40 and Nokia Symbian S60 operating systems.
It's amazing how things have changed. When WhatsApp was launched in 2009, 70% of the smartphones in use were running BlackBerry and Nokia branded software. Android, Windows and iOS accounted for 25% of smartphones in use back then. Today, 99.5% of intelligent handsets in use are powered by iOS, Android and Windows.
WhatsApp,
which was purchased by Facebook in October 2014 for $21 billion
, says that it is dropping support for the older operating systems because "they don't offer the kind of capabilities we need to expand our app's features in the future." If you are affected by WhatsApp's decision, the messaging app suggests that you buy a new iPhone, Android Phone or Windows Phone.
"This was a tough decision for us to make, but the right one in order to give people better ways to keep in touch with friends, family, and loved ones using WhatsApp. If you use one of these affected mobile devices, we recommend upgrading to a newer Android, iPhone, or Windows Phone...to continue using WhatsApp."-WhatsApp
source:
WhatsApp