Are you putting a screen protector on your Galaxy Note 7?
28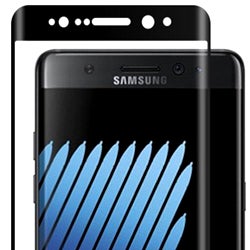 Galaxy Note 7
drop tests
have been popping up like on a whack-a-mole arcade ever since the first batches starting getting into the hands of their rightful owners last Friday, and they all indicate one thing - the glass rear might crack as easily as on the
Galaxy S7
or the
Note 5
, but the front can remain intact from drops as high as a selfie setup.
This is most probably a testament to the durability of the new
Gorilla Glass 5
than anything else, as Corning pegs it as able to survive five feet drops in up to 80% of the cases. Still, the company mentioned that if manufacturers alter the composition it might not be as durable as the pure thing, which might explain why the
nanocoated and colorful
Note 7 rear seems to crack easier than the front.
In light of these impromptu drop tests we wanted to ask you if you are planning to put a screen protector on the Quad HD Super AMOLED Dual edge display of the Galaxy Note 7. After all, the
$270 panel
already proved able to withstand shoulder-height drops, and decent curved screen protectors, especially glass ones, are few and far between - some of those for the Note 7 you can preview in the slideshow below. So, are you placing a screen protector on your shiny new Note 7, Gorilla Glass 5 and all?