Are you happy with the value-for-money offer of the new Nokia Lumia 830?
99+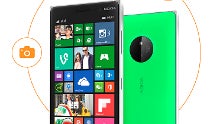 The freshly-announced
Lumia 830
is a bit of an oddball creature. It comes powered by a lowly Snapdragon 400 processor with 1 GB of RAM, and the screen sports "just" HD resolution, yet the rest of the specs and above all, the phone's functionality, were touted as if Nokia is outing a flagship. At the unveiling presentation, Microsoft even compared the 830 photos directly with the
iPhone 5s
and
Galaxy S5
, without mincing words about their snapping abilities in comparison.
The thinnest Lumia so far also feature all of Nokia's bells and whistles, like a new
10 MP PureView Phase V camera module
with optical image stabilization,
Nokia's Rich Recording
audio tech, the ClearBlack screen filter, a high brightness screen mode, metal rim, wireless charging, and so on - all things that Nokia usually reserves only for its top-shelf gear. The Lumia 830, however, is far from being with a flagship price tag. Nokia listed it as available for EUR 330 without any subsidies, comparing it to the Galaxy S5, which costs EUR 200 more, and the iPhone 5s that comes for EUR 300 more. Nokia is clearly trying to position the Lumia 830 in a unique way, that's why we wanted to ask you if you are satisfied with what the handset offers for its money. Check your mark in the poll bellow, and give us your opinion in the comments.