PureView Phase V detailed: a 10 MP Lumia 830 camera with Nokia's thinnest OIS module
29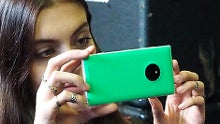 Ladies and gents, it might have slipped the
Lumia 830
presenter to mention that the Nokia PureView camera technology officially entered its Phase V stage today, but this little fact didn't escape our attention, so let's dive into the future of Microsoft's Windows Phones shooter tech that was just demonstrated on stage at the IFA expo in Berlin before our very eyes.
Nokia introduced its so-called PureView camera tech brand just two years and a half ago, with the jaw-dropping
808 PureView
monster with a whopping 41 MP sensor hump on the back. This one marked Phase I of the technology, indicated by the so-called pixel-binning and
lossless zoom
technologies, that allowed for superior detail and quality unseen on a mobile device until then. Then, later that same year, came the pivotal
Lumia 920
, which was the first flagship that Nokia produced with the Windows Phone mobile OS. It didn't have the giant 41 MP sensor of the 808 PureView, opting for an 8.7 MP one instead. What could be considered PureView Phase II there, however, was the optical image stabilization tech, that
put the whole camera module on suspension
, allowing it to compensate for hand tremor up to 500 times a second, and pushing most major phone makers to follow.
Nokia's CEO at the time, Stephen Elop,
promised to merge Phase I and II in a PureView Phase III handset
that would feature both the OIS, and the pixel-binning, as well as lossless zoom technologies in one module. That promise was realized last summer, with Nokia's
Lumia 1020
, which did sport a version of the 41 MP monster, and an optically-stabilized module. Later on, in the fall, the company introduced its first phablet, the
Lumia 1520
, with a slimmed-down version of the signature 41 MP PureView sensor that had a smaller, 20 MP resolution, aided by OIS tech in its turn, for Phase IV of Nokia's groundbreaking mobile camera tech.
The company just introduced the
Lumia 830
, and it looks like we are entering Phase V with it, as it sports an even smaller than the 1520, new 10 MP PureView sensor, while at the same time flaunting the slimmest OIS module Nokia has ever created, allowing the shooter to fit in a thin, stylish chassis. As you can see from our quick sensor size comparison chart below, the 1/3.4" is a tad smaller than the grey area which indicates the average smartphone sensor size, but the devil is in the details. Here's the nitty-gritty on the new PureView sensor: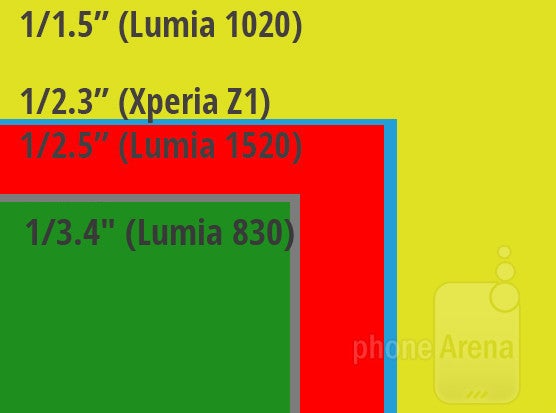 Lumia 830 sensor is of pretty average size
Primary camera sensor size: 10 MP, PureView
Camera Focus Type: Auto focus with two-stage capture key
Camera digital zoom: 4 x
ZEISS optics: Yes
Sensor size: 1/3.4 inch
Main camera f-number/aperture: f/2.2
Camera focal length: 26 mm
Camera minimum focus range: 10 cm
The new sensor features 6-lens Zeiss optics, backside illumination, and genuine 16:9 sensor format out of the box, like on the
Galaxy S5
. The sensor's light sensitivity can go up to the decent 3200 ISO count, which, coupled with the slower shutter speeds made possible by the stabilisation tech, should allow for better-lit night and low-light scenarios, hopefully without grain and blur. Here's an official demo of the new Lumia 830 PureView camera from Microsoft, for your viewing pleasure, as well as a few camera samples of our own.