Apple's shares break 100 on nasty market open, bounce back sharply
22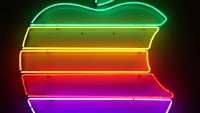 Apple's soaring shares, which made the company the most valuable organization in history, took a nasty tumble along with the rest of the U.S. stock market on Monday morning. A two day decline of more than 800 points in the Dow Jones Industrial Average on Thursday and Friday, along with a huge 8.5% decline in China's market on Monday, set the tone for the massive selling on the open.
Apple opened at 92, the lowest price for the stock since June and a decline of 13% from Friday's close. The stock has made a remarkable comeback and is currently trading at $104.42. That means the decline has been pared to 1.4% on the day.
On January 8th 2007, the day after
Steve Jobs unveiled the Apple iPhone at Macworld
, the company's shares were trading at the equivalent of $11.42. Since then, it has been quite a ride for investors who saw the shares peak at $134.54. More than $90 billion in value has been evaporated by the recent decline in the stock. All of the prices
reflect a 7 for 1 stock split that took effect in June 2014
.
Investors pushing up the stock made Apple the most valuable enterprise to ever open its doors on earth. Along the way,
the company passed one time leaders such as Microsoft and Exxon
. After the death of Steve Jobs, current CEO Tim Cook took over and Apple's shares didn't miss a beat.
This morning's open might end up becoming a great buying opportunity in hindsight. Other mobile related firms have exhibited the same pattern today as Apple with Microsoft (current price $42.26, opened at $40.59), Qualcomm (now $56.45, opened at $53.15) and BlackBerry (currently $7.02, opening price $6.50) bouncing back from morning lows.
Stock prices from
Yahoo Finance