Apple's iAd advertising service to tie up with Google for a fifth of the market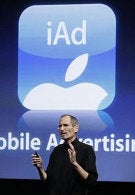 Apple's purchase of Quattro Wireless this year was aimed at getting the company a foothold in the mobile advertising space. This market is expected to explode in the next few years, and Cupertino didn't want to let Android or others to lead the way.
Steve Jobs made some
bold claims
that by the end of 2010 iAd will have claimed half of this business, because Apple's approach is towards interactive ads that can be viewed within an app. The ads are developed with close supervision by Apple, and take
longer than usual
for advertisers to brainstorm and get approved.
While not 50%, the iAd success is still pretty impressive, despite being in its early phase. Research shows that by the end of the year, Apple will hold 21% of the mobile advertising market, as much as the king of search and sponsored ads Google will have, and triple the size of Microsoft's share.
Google's comment on the matter has been that if the company is losing share, that is because the size of the pie is growing with unforeseen speeds, since its own internal metrics are showing explosive growth too.
Well, it looks like Yahoo's CEO
opinion
, that iAd will be a failure, is not holding water for now, actually Yahoo's own share is projected to fall from 12%, to 9% of the market this year. Apple says it needs iAd as a tool for developers to monetize free apps, but in the end we are sure the advertising network will turn into the next cash cow for Cupertino.
source:
AppleInsider