Yahoo CEO Bartz says that Apple's iAd network will "fall apart"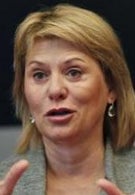 Yahoo CEO Carol Bartz recently spoke with Reuters. During the chat, Bartz discussed how Yahoo plans on battling it out with Google and Apple for revenue in the mobile ad business. The executive made an interesting forecast about Apple's new iAd network, which opened for business this past July. Bartz said that iAd would "fall apart" because advertisers would not put up with Apple's controlling policies. She said, ""That's going to fall apart for them. Advertisers are not going to have that type of control over them. Apple wants total control over those ads."
Yahoo's CEO might have been simply repeating what the WSJ printed in an August story. According to the businessman's bible, advertisers were seeing delays in launching ads because Apple has "kept tight control on the creative aspects of ad-making, something advertisers aren't used to." Ads were taking 8 to 10 weeks to launch, a timeframe that other networks were easily beating. Apple said that the wait time was well worth it for advertisers since the Cupertino firm delivered an interactive "app within an app" and delivered ads that did not require the user to leave whatever application he was using and launch the browser to see the advertisement. Early iAd customers, Nissan and Unilever, agree with Apple and advertisers says that Apple's interactive ads are 5 times as likely to be clicked on than the usual mobile ads from the competition.
source:
Reuters