Apple to report on Tuesday that it currently holds $250 billion in cash
30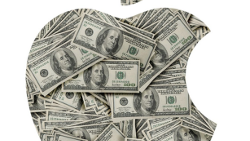 On Tuesday, Apple is expected to report its fiscal second quarter earnings. In that report, the tech titan will reportedly announce that it is holding $250 billion in cash. If you think that this is a lot of money, you're absolutely right. According to Marketwatch.com, this is more than the foreign currency reserves held by the U.K. and Canada
combined
. Looking at it another way, at current valuations Apple could purchase all of the outstanding shares of Walmart and Procter & Gamble and still have money left over.
It has taken Apple only 4 and half years to double its cash hoard. During the fiscal first quarter of 2017, Apple was adding $3.6 million to its cash position every hour. It finished the quarter ending in December with $246.09 billion in cash. 90% of the money is banked overseas, which means that Apple would be one of the companies to benefit the most from President Trump's plan to offer a one time tax break on repatriated funds.
Currently, U.S. corporations pay 35% on cash held overseas that is brought back to the states. There is speculation that the rate will be cut to as low as 10% for this one time only event. Apple CEO Tim Cook and CFO Luca Maestri both have expressed an interested in shipping some cash home if given the chance to save on the repatriation tax.
With such a large amount of cash stashed away, Apple stockholders could demand that Apple distribute some of it to them by raising the quarterly dividend which is currently at 57 cents a share. Based on the stock price, this is a yield of 1.6% on an annualized basis. Apple could also decide to pay a one-time only special dividend, or make a purchase. Currently, there is a rumor that
Apple is interested in purchasing the memory chip business belonging to Toshiba
.
The latest gossip has Apple and iPhone assembler Foxconn combining to make a bid for the Toshiba division. Apple would end up investing several billion dollars for a 20% stake in the company that it would form with Foxconn. One fund manager with holdings in Apple, Robert Nichols of Windward Capital Management Company, says Apple should buy video streamer Netflix for $65 billion. He says that such an acquisition would allow Apple to own a streaming media service without having to start one from scratch.
source:
Marketwatch
,
FoxBusiness