Apple and Foxconn bidding together for Toshiba's memory chip business?
18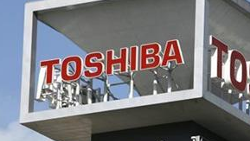 Back on April Fool's Day, we told you about
a number of tech firms that were interested in buying Toshiba's memory chip business
. Two of the companies interested in the business are said to be joining up in order to increase the size of their bankroll. And these two tech firms happen to know each other very well. We are talking about Apple and Foxconn. The former needs no introduction, while the latter is the company that assembles devices like the Apple iPhone and Apple iPad.
Foxconn by itself reportedly made an opening round bid of $18 billion for the business, which is the second largest flash memory operation on the planet topped only by Samsung. With the Japanese government concerned about what it sees as the transfer of sensitive technology to companies and investors deemed a national threat, the new plan calls for Toshiba to keep a small ownership stake in the business to allay these fears.
Apple would invest several billion dollars and take ownership of more than 20% of the business. This would help keep Toshiba's memory chip business in favorable U.S. and Japanese hands according to public broadcaster NHK. The latter picked up its information from an anonymous source. Previously, sources leaked the name of four companies said to be still standing in the bidding process. Those bidders include a team made up of chipmaker Broadcom and private equity firm Silver Lake Partners LP. The remaining players include South Korea chip producer SK Hynix, Foxconn and Western Digital. Those four were whittled down from a list that included Apple, Google, Amazon and others.
Another problem looms for bidders. Western Digital, Toshiba's partner in the memory chip business, claims that by selling the division, Toshiba will violate a joint venture contract they both signed. As a result, Western Digital demands exclusive negotiating rights for the memory chip business.
source:
Reuters
Recommended Stories