Apple to report Q3 earnings on July 23rd
2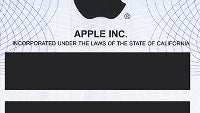 Four times a year, Wall Street goes crazy when it comes to Apple. Like a gambler trying to win everything back on the Super Bowl, stock traders use the increased volatility that happens around earnings season to try to make a few bucks in the options market. And when you're dealing with a company where everyone has an opinion, like Apple, the price swings are wide and the profit/loss potential is high.
The Cupertino based tech giant has announced on its web site that the next earnings report, for its fiscal third quarter, will be released on
July 23rd
. For the second quarter, revenue topped Wall Street expectations but
profits came in lower for the first time in ten years
. For the second quarter, the company reported $9.5 billion in profits, down from the $11.6 billion in profits it reported the prior year. For the third quarter, Apple is expecting to report revenue between $33.5 billion and $35.5 billion with gross margin between 36% and 37%.
The quarterly conference call is expected to begin at 5pm EDT on July 23rd.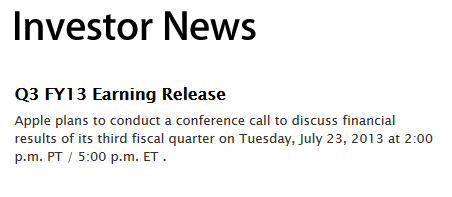 Apple will report its third quarter earnings report on July 23rd
source:
Apple
via
AppleInsider