Apple targets 19 hour battery life for Apple Watch?
63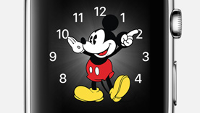 A report published on Thursday reveals that the Apple Watch is loaded up with a light version of iOS codenamed SkiHill. The S1 processor on the wearable is equivalent to the Apple A5 chip employed in the current version of the Apple iPod touch, and the screen updates at a rate of 60 fps. When the Apple Watch was introduced last September, there was talk
about how unhappy Apple was with the battery life of the device
. At the time, an Apple spokeswoman said that the battery in the timepiece would last about a day and would require nightly charging.
The same report reveals that Apple initially targeted a full day of battery life for the Apple Watch. Last year, the company hoped to achieve 2.5 to 4 hours of active application use, and a combined 19 hours of combined active/passive use. Apple hoped the watch would have a standby time of 3 days, 4 days if in sleep mode.
Those in the know say that Apple now has been testing the device in hopes of getting 2.5 hours of "processor-intensive" application use out of the battery on the watch. It is aiming for 3.5 hours of regular app use, and believes it can get 4 consecutive hours of fitness monitoring out of a single charge. For those interested in just the time, the watch face will run with all animations, including a ticking second hand, for 3 hours. But the Apple Watch display does power off when not in use. In that mode, the clock consumes a much lower amount of power.
The delay in the launch of the timepiece is partly due to the battery life. Apple has been testing the battery life of the Apple Watch in the real world as over 3000 test units are believed to be in operation, mostly the stainless steel model. Apple has also been working on speeding up the charging time of the MagSafe-based inductive charging mechanism. The charger is apparently going to arrive in two versions. A plastic model will be for the aluminum and plastic variants of the Apple Watch, while a stainless steel version will probably come out of the box of the high-end Apple Watch models.
source:
9to5Mac
via
BGR