Apple stops the use of plastic bags in Apple Stores
24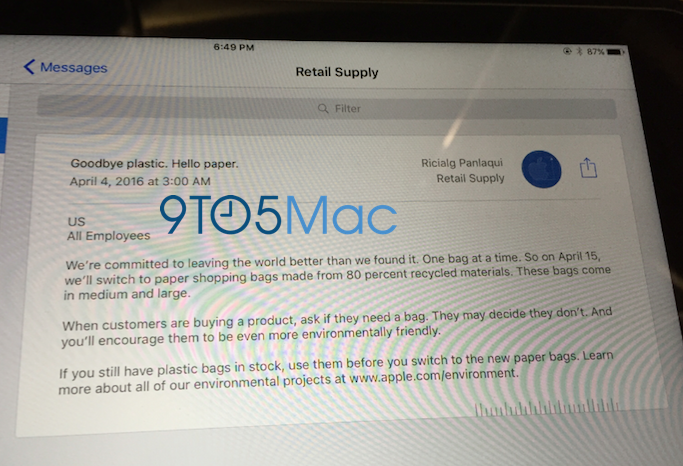 Apple has been quite vocal about being environmentally friendly for a while now and seems to truly strive towards a more environmentally-friendly production of its products — at the
iPhone SE
and
iPad Pro 9.7
event back in March
, the company proudly announced that its factories in the USA and China operate on 100% renewable energy, and that 99% of the products' packaging comes either from recycled paper or from sustainable forests.
Now, it seems Cupertino is taking yet another step towards environment-conscious business. An internal memo has leaked, showing that, starting April the 15th, Apple stores will stop using the iconic plastic bags and will move to paper ones, bade with 80% recycled materials. On top of that, store staff has been instructed to ask customers if they will need a bag in the first place, giving them a choice to just carry their purchase, preserving a perfectly good bag unused.
How big can the omission of simple plastic bags be? Quite big, really, especially for a company like Apple. It sells millions of products worldwide on a yearly basis. Each of these sales has thus far automatically been packed in one of the aforementioned, Apple-branded plastic bags, which are rather large and thick. That's millions of non biodegradable bags being handed out per year, with many of them undoubtedly ending up in the trash. So, good on Apple for taking responsibility and reducing its footprint further.