Samsung and Apple rake in 99% of mobile profits
18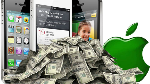 A few days ago, we learned that Apple and Samsung are by far the dominant forces in the smartphone market, and it's no surprise that Apple is a profit machine, but the numbers for just how dominant are a bit staggering. In the estimates,
it was predicted
that the two companies would combine for 90% of profits, but that may not even be high enough.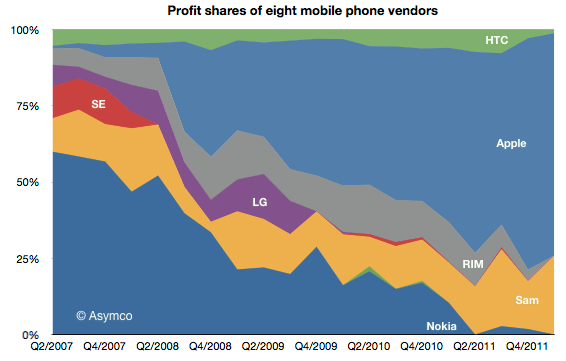 According to the numbers from asymco, Apple took in 73% of operating profits, while Samsung made 26%, which means the two combined were responsible for 99% of profits in Q1 of this year. However, we must point out that asymco only tracks handset makers that report mobile phone divisional performance, and never makes it fully clear what companies are included. Given the size of the company, we find it hard to believe that ZTE wouldn't even be mentioned in the report, and Huawei is also not mentioned.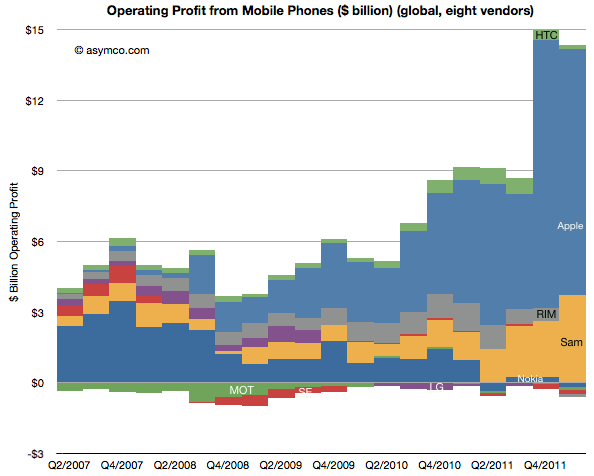 Possibly even more impressive is just how quickly the smartphone market has grown, and specifically Apple's profit within that market. Just two years ago in Q1, total profits from the 8 vendors listed in asymco's data was just $5.3 billion, and in Q1 this year, the profits generated were $14.4 billion. And, Apple made up about $10.5 billion of that number. That's some impressive growth.
Still, this doesn't really help assuage
the fears that we have
about Apple and Samsung being the dominant forces in the mobile world.