Samsung and Apple rake in 99% of mobile profits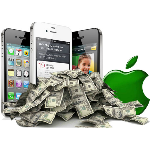 A few days ago, we learned that Apple and Samsung are by far the dominant forces in the smartphone market, and it's no surprise that Apple is a profit machine, but the numbers for just how dominant are a bit staggering. In the estimates,
it was predicted
that the two companies would combine for 90% of profits, but that may not even be high enough.
Still, this doesn't really help assuage
the fears that we have
about Apple and Samsung being the dominant forces in the mobile world.