Apple unveils CarPlay mode for safer, easier iPhone usage in your Ferrari... or Corolla
17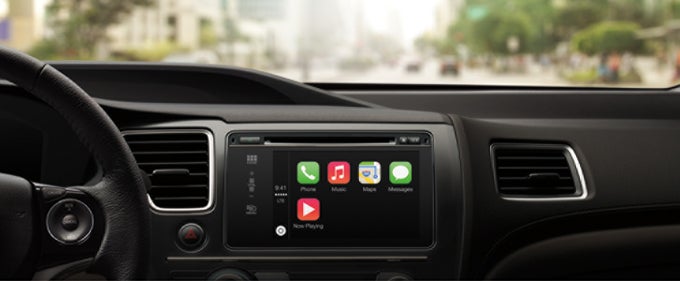 Apple chose the Geneva International Motor Show to announce its
rumored CarPlay service
, "
designed from the ground up to provide drivers with an incredible experience using their iPhone in the car
," as per Greg Joswiak, VP of iPhone and iOS product marketing.
CarPlay will arrive as an update to iOS7, and will be compatible with all iPhones that have a Lightning port, such as the
iPhone 5
,
iPhone 5s
, and
iPhone 5c
. Apple dubs CarPlay to be a "
smarter, safer and more fun
" way to use those iPhones in a car. Essentially, it is what other manufacturers, like Samsung, LG, HTC or Nokia, have been offering as a Drive or Car mode, in their respective interface overlays, but tailored to the iOS crowd. CarPlay is Apple's answer to the scramble to make using smartphones in our vehicles a more integrated, safer, and pleasant experience.
There are the obligatory lush, big icons, which are easy to spot and press while driving, and give you immediate access to navigation, calling, music services, and messaging. These can be operated with touch, or via engaging Siri's voice assistant prerogatives via a dedicated, steering wheel-mounted button. CarPlay's will also be predicting your eventual destination, based on a trip log, and Siri will be reading out the directions, while maps appear on the car's display.
As far as the music experience goes, besides all the music stored on your iPhone or in iCloud, you'll be able to use 3rd party apps like Spotify, for streaming anything your heart desires. "
The iPhone users always want their content at their fingertips and CarPlay lets drivers use their iPhone in the car with minimised distraction. We have an amazing lineup of auto partners rolling out CarPlay, and we're thrilled it will make its debut this week in Geneva
," chimed in Greg Joswiak again, praising the new mode.
Those "auto partners" include brands like Ferrari, Volvo and Mercedes-Benz, which already have models with CarPlay at the Motor Show, while a number of others will be joining them in the future. BMW, Ford, General Motors, Honda, Hyundai, Jaguar Land Rover, Kia, Mitsubishi, Nissan, Peugeot, Citroën, Subaru, Suzuki, and Toyota, have apparently all signed up for the ride. CarPlay will be available in select 2014 models of the above brands, which will standardize the iPhone and iOS in-car experience across all of them.
source:
Apple