Apple iPhone aimed at corporate users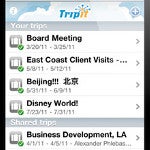 With the
survival of RIM in doubt
, will one of the currently growing platforms step up to the plate when it comes to business? It sure looks like Apple is making an attempt to have the Apple iPhone appointed as the next handset for business. Apple has
added a section to the Apple iPhone's landing page
called "iPhone in business," and this breaks down into five more sub-sections: iPhone at Work, Integration, Apps for Business, Profiles and Resources.
The "iPhone at Work" page uses a
combination of native Apple iPhone apps like calendar, and third party apps like OmniFocus and Micro Strategy
to show-off how the device can be useful for companies. Apps available for the Apple iPhone with a business connotation include those for travel planning, making schedules and keeping in touch with fellow workers.
iPhone's support for Microsoft Exchange, enterprise Wi-Fi networks and Virtual Private Network
s. Security is highlighted as is a discussion about using multiple iPhones to handout to employees. "Apple for Business" shows certain apps that can be used by companies while 'Profiles" gives success stories about companies like Lowe's and Standard Chartered that successfully integrated the Apple iPhone into their corporate culture. Lastly, the "Resources" page tells you where to find stories and guides to get your company started with the iPhone.
Had you asked top corporations back in 2007 when the Apple iPhone launched if they could ever see the day when an iPhone would replace their trusty BlackBerry at the office, most pinstriped execs would have told you that the iPhone
was a fad or a toy at best
. Now, 5 years later, the Apple iPhone is not only a household name but is one in the corporate boardroom as well.
source:
Apple
via
AppleInsider