Apple iPhone 7 Plus catches on fire inches from sleeping woman's head
99+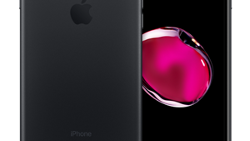 A Chinese woman with the surname of Chen (that is all the information she would tell the media about her name) was warm and cozy inside her home in Nanjing. In fact, it was the middle of the night earlier this month, and the woman was fast asleep in her bed. Lying inches away from her head was the
Apple iPhone 7 Plus
that she had purchased back in March. Chen might have been dreaming about the 10th anniversary
Apple iPhone 8
coming later this year, when she was startled by a cracking sound that woke her up at 2am.
Turning toward the iPhone 7 Plus on her pillow, she could see smoke billowing out of the handset. After tossing the device on the ground, the phone caught on fire for about three minutes. No one was injured, but the iPhone 7 Plus, just one month old, was a total loss with a huge area of melted material where the battery once sat.
Chen brought the phone back to the retail location where it had been purchased and was told that she couldn't get a refund until the cause of death was determined. So Chen will have to shell out money for a new phone until it is determined if she is owed some type of compensation for purchasing what appears to be a defective iPhone 7 Plus.
One thing that Chen has decided is that her next handset will not be from Apple. She says that she will never buy another iPhone unless Apple can guarantee that the new model won't go up in flames. "Even if they decide to give me a brand-new iPhone, I won't accept it until they can provide guarantees that something like this won't happen again," she said.
We should point out that we don't know whether Chen was using the original charging equipment that comes out of the box. A look at the pictures that accompany this story show some unknown device with a wire that is in the background next to the damaged phone. Unfortunately, the photos aren't clear enough to determine if that device in the photo is a third-party charger, or if it is something else not related to the iPhone.
source:
Softpedia