Apple iPad dominates tablet generated web surfing; Amazon Kindle Fire is a distant second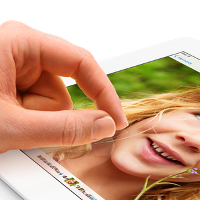 Mobile ad network Chitika kept an eye on internet traffic generated by tablets over a three month period ended in August, using a seven-day rolling average to measure the web traffic coming from different slates. The metrics firm discovered somethin quite interesting. When the
Nexus 7 (2013)
refresh was launched, it did nothing to increase internet surfing by Android tablet users. But when Amazon lowered prices on it's Kindle Fire slabs, there was a noticeable improvement in web browsing coming from Android tablets.
The information, coming from analysis of tens of millions of mobile ad impressions, reveals that at the end of June, the various generations of Apple iPads in use accounted for a whopping 84.3% of internet traffic coming from a tablet. The Amazon Kindle Fire slates were a distant second at 5.7%. Samsung Galaxy tablets were third with a
4.2
% share. Apparently, tablet users have more of an affinity for apps than they do for browsing the web, but that doesn't explain the large gap between those surfing the web on an iPad and those using an Android device.
Other figures of note. The Microsoft Surface tablets account for .5% of the internet use that comes from a slate while the
BlackBerry PlayBook
accounts for .4%. Among Android tablets only, the Kindle Fire family is responsible for 42.5% of tablet based browsing. 27.7% of Android browsing comes from Samsung Galaxy tablets while 7.2% comes from the Google Nexus 7.
source: Chitika via
Forbes