Apple has largest wearables share as overall shipments set quarterly and annual records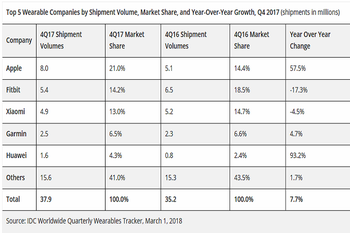 Unlike the smartphone market, which has seen a decline in shipments, total deliveries in the wearables market set a quarterly record during Q4, and an annual record during 2017. According to IDC, during the fourth quarter of 2017 shipments of wearable devices rose 7.7% from 35.2 million units to a record 37.9 million. For all of 2017, a record 115.4 million wearables shipped, up a healthy 10.3% from 2016's total of 104.6 million units delivered.
IDC's data shows that for the first time ever, the
Apple Watch
was the wearables leader during the quarter. Led by the Series 3 Cellular model, the company shipped 8 million timepieces from October through December for a 21% market share. That was nearly a 58% year-over-year gain from Q4 2016 when Apple held 14.4% of the wearables market. In second place with
5.4
million wearables delivered during the fourth quarter was Fitbit. A 17.3% drop in shipments took the company's market share down from a leading 18.5% in 2016, to 14.2% last year. Xiaomi dropped from second to third during the holiday quarter, while shipping 4.9 million units for a 13% share of the market. The biggest year-over-year jump came from Huawei. The latter nearly doubled its deliveries of wearable devices to 1.6 million units, good enough for a 4.3% slice of the wearables pie. That put the company fifth on the Q4 list, behind Garmin's 6.5% share.
For all of 2017, the Apple Watch had 17.7 million units shipped, a 56% jump over 2016's total. Apple owned a 15.3% share of the wearables market last year, up from the 10.8% it had in 2016. Xiaomi was in second place, exactly where it was in 2016. The firm's market share of 13.6% for 2017 was a small decline from the 15% slice of the market it had the year before. It was a tough year for Fitbit, which dropped to third place from first during 2017. A 32% year-over-year decline in shipments took Fitbit's share from 21.5% in 2016 to 13.3% last year. The company was busy concentrating on the distribution of its Ionic smartwatch, and development of apps for Fitbit OS.
In fourth place for 2017 was Garmin with 5.4% of the market, followed by Fossil. The latter saw the number of deliveries jump by 133% to 4.9 million last year from
2.1
million the year before. Market share soared from 2% to 4.3%.
source:
IDC