Apple gives Phil Schiller responsibility over the App Store, makes other changes
14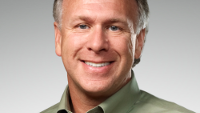 Apple made some changes in the executive offices. Phil Schiller, senior vice president of Worldwide Marketing, has added oversight over the App Store to his job description. Schiller is now in charge of most developer related functions at Apple. The tech titan employs the talents of 11 million developers globally, who build apps for Apple's four platforms including iOS and watchOS.
In addition, Jeff Williams has been named Apple's Chief Operating Officer. That happens to be the position that Tim Cook filled
prior to becoming the company's CEO on August 24th, 2011
. Because of his cancer, Apple co-founder Steve Jobs was not feeling strong enough to run the company on a day-to-day basis, and decided to step down. Williams joined Apple as head of worldwide procurement in 1998. Six years later, he was named vice president of Operations. He has managed Apple's supply chain for the last five years.
Named VP for Hardware Technologies is Johny Srouji. He joined Apple back in 2008 to help with the development of the A4 chipset. Apple also announced that Tor Myhren will become the company's vice president of Marketing Communications, starting in the first quarter of 2016. Myhren will report directly to Tim Cook. He succeeds Hiroki Asai, who is leaving Apple after 18 years at Cupertino.
"
We are fortunate to have incredible depth and breadth of talent across Apple's executive team. As we come to the end of the year, we're recognizing the contributions already being made by two key executives. Jeff is hands-down the best operations executive I've ever worked with, and Johny's team delivers world-class silicon designs which enable new innovations in our products year after year. In addition, Phil is taking on new responsibilities for advancing our ecosystem, led by the App Store, which has grown from a single, groundbreaking iOS store into four powerful platforms and an increasingly important part of our business. And I'm incredibly happy to welcome Tor Myhren, who will bring his creative talents to our advertising and marcom functions." —
Tim Cook, CEO, Apple.
source:
Apple