Apple and Nike to start selling Apple Watch Series 2 NikeLab Edition - should you care?
5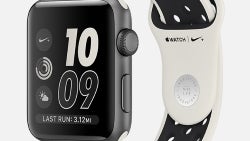 Among the many
Apple Watch Series 2
choices is the Nike+ variant, which comes with the Nike+ Run Club app, a Siri command that lets you bark "Start a run!" at the watch, and two sports-type watch faces with running metrics.
Nike and Apple are about to start selling the same thing with a new "neutral-toned" perforated elastomer band, calling it the "Apple Watch NikeLab Edition". The NikeLab Edition will go on sale April 27, sold exclusively at Nike and NikeLab stores. The price hasn't been formally announced, neither the amount of units to be made.
However, some reports suggest the price will stay the same as the
Apple Watch Series 2 Nike+
– $369 and $399 for the 38 and 42mm versions, respectively.
So, should you care? That depends on if you really want that new wristband, or not. For a so-called "innovation lab," NikeLab has been rather...
economical
with the innovation in this particular product, don't you think?
ALSO READ