Apple Watch Series 2 Review
31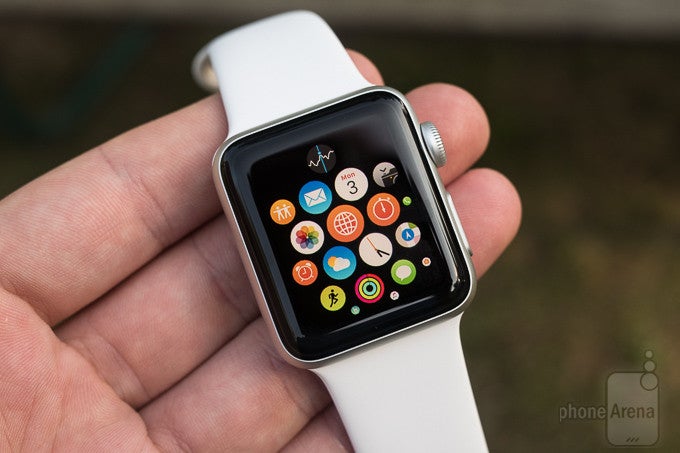 Update

: You can now read our Apple Watch series 3 review!
Intro
Apple has a well-deserved reputation for helping to define our expectations for what are still, to many shoppers, new product types. The iPhone showed both consumers and other handset manufacturers alike how much untapped potential there was in the burgeoning smartphone market, and the iPad helped tablets move away from their characterization as either under-equipped laptops or blown-up phones to a novel, useful form factor in its own right.
After those milestones, it was only understandable that all eyes were on Apple as the smartwatch movement began to take shape. Companies like Pebble started getting that ball rolling, and by early 2014, smartwatches felt like they were on the brink of going mainstream, with Android Wear about to make its debut – so where was Apple's eagerly awaited effort?
We had to be patient, and confirmation of the Apple Watch didn't land until the waning days of summer 2014. Even then, it was still a bit of a tease – Apple may have announced its inaugural wearable product, but it wouldn't be until the spring of 2015 that users could actually pick up an Apple Watch for themselves. But when that day finally arrived, Apple quickly picked up a sizable chunk of the smartwatch market with an attractive, well-executed series of models offering a variety of material types, sizes, and style options.
But for all the Apple Watch did well, ever since its debut we've been wondering, "what's next?" After all, that odd pre-announcement strategy sure felt like Apple was rushing to get its wearable to market, and maybe we'd see a very different Watch once Apple had some time to sit back and see how consumers responded, experiment some more with design and construction techniques, and reflect upon what it learned from this first-gen launch.
It took well over another year, but last month we finally saw the fruits of those efforts, with the release of the new Apple Watch Series 2. It's far from a back-to-the-drawing-board upgrade, and if this were an iPhone, we'd be calling it the Apple Watch S, but with a smattering of new features, some upgraded watch software, and a fresh new iPhone to pair it with, is this the Apple Watch sequel we've been waiting for, or a case of too little, too late? Let's take a look at the new Apple Watch Series 2.
In the box:


Apple Watch Series 2 (for this review, the 38mm Silver Aluminum Case with White Sport Band)
Pair of Sport Bands (S/M and M/L)
Magnetic wireless charger
AC adapter
How-to-guide
Safety/warranty slip
Design
Upgrades await within, but that's one familiar-looking body
In the months leading up to the launch of Apple's second-get Watch, rumors furiously speculated about what sort of look we might get. Would Apple add new hardware like a camera to its wearable? What about changing up the design with something like a curved display, or adding new controls to the existing button and crown?
Well, after all that noise, we're coming away with an Apple Watch Series 2 that's a near spitting image of the original; unless you plan on flipping one over and checking the text surrounding the Watch's optical heart-rate sensors, you'd be hard-pressed to tell this one apart from the first model.

That may upset Apple fans who were looking to see the company take more risks with its wearable's design, but really it speaks to Apple's confidence that it was headed down the right path the first time around; sometimes you need to take a few stabs before you find a look that really resonates (look no further than Samsung's early Galaxy Gear watches), but if you do manage to come up with a hit right out of the gate, maybe there's something to be said for staying the course.
None of this is to say that Apple's new smartwatch is a pure rehash of the first-gen model, but the manufacturer has been positively conservative in the upgrades it's decided to employ. And while there are some surprises lurking within, there's little in the new Apple Watch's design that betrays its upgraded internals.
Maybe the clearest indication that you're dealing with a new Apple Watch comes in the form of some new Series 2-only variants. For instance, there's the new Apple Watch Nike+ with its perforated strap and multi-tone styling. And the high-end Apple Watch Edition graduates from a conspicuously showy gold body to one crafted from extra-strong ceramic. There's even the Apple Watch Hermès, with its designer straps and buckles. But for all these variants, the basic look of the Apple Watch remains more or less unchanged.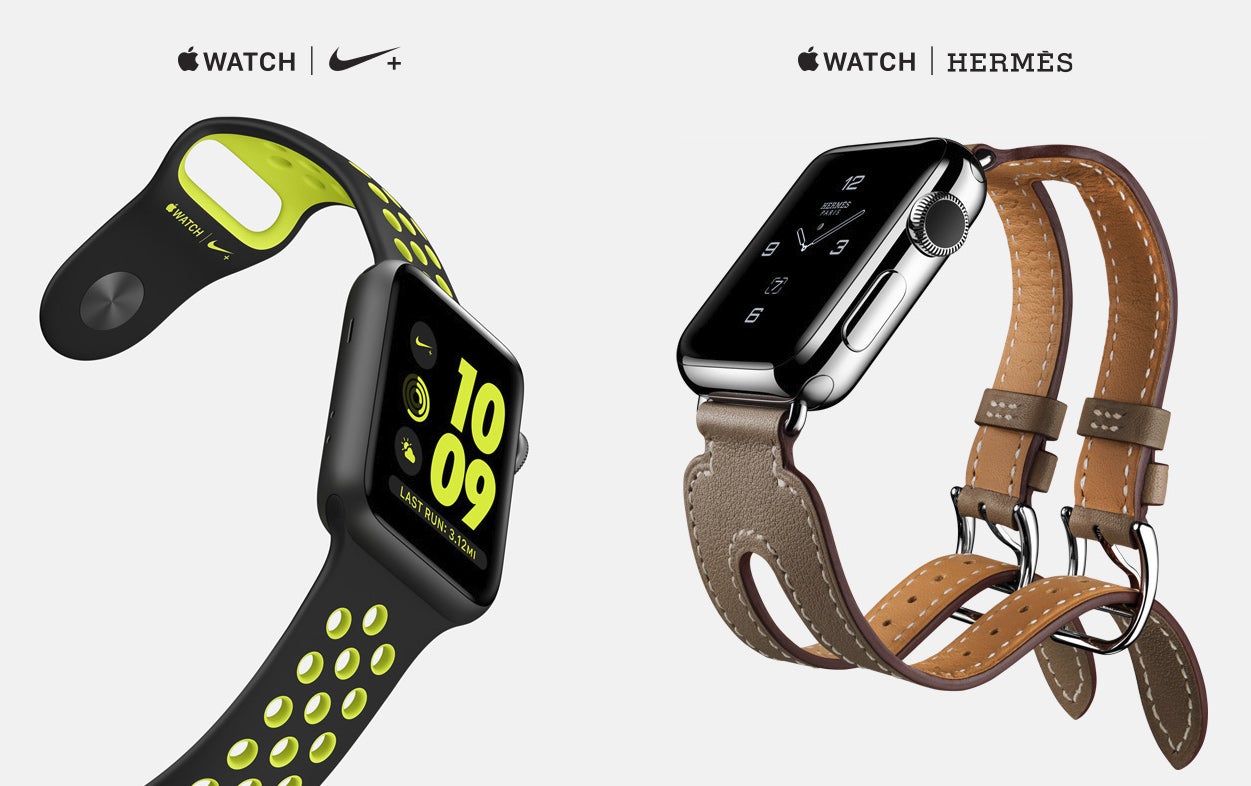 What changes to that basic look that can be discerned are almost too small to spot, which is good because they may just be steps in the wrong direction: while the face of the new Apple Watch retains the same dimensions as the first-gen model, the watch body itself grows just under a millimeter in thickness – from 10.5 to 11.4mm. And correspondingly, weight takes a step up, too, as the 38mm Watch grows from 25 to 28.2 grams, and the 42mm model from 30 to 34.2 grams. Those figures are for aluminum bodies, and will vary for steel and ceramic. Oddly, the 38mm ceramic Apple Watch is thicker than every other model, at 11.8mm.
Thankfully, the new Apple Watch doesn't really feel that bulky, despite its growth spurt. With the 38mm model we looked at, the watch's curves help it appear slim even with its objectively thicker build, and the extra weight doesn't make the smartwatch feel overly burdensome to wear. With wearables, thin is great, but if you can (smartly) do slightly thicker without ruining things in the process – well, we suppose that works, too.
Finally, we've got a functional change, that we might as well talk about in the same breath as these other external hardware updates: Apple's super-charged the Watch's water resistance, moving from protection against sweat, rain, and a quick hand-washing (though with Apple advising against full-on submersion) to rated for submersion in depths up to 50 meters. There are still all sorts of asterisks attached to that classification, though – Apple warns against the combination of water and high speeds, like you'd experience while waterskiing. But even with those concerns in mind, this is still a big upgrade to the smartwatch's durability.
Display
Apple heard your demands for a brighter screen and delivers
Arguably even more so than with a smartphone, we expect a lot from a smartwatch's display. It needs to be easily readable in all manner of environmental conditions, as usable up close as at arm's length, and convey all its information to the user without sucking dry the watch's battery in mere hours.
The OLED panel of the first-gen Apple Watch was already quite attractive, offering a screen that blended seamlessly in to the watch's glossy black face, while also proving the bold colors and sharp contrast that OLED screens are known for.
With its second-gen hardware, Apple – much like with the wearable's overall design – didn't decide to move in a drastically different direction. We've got the same resolutions as before: 272 by 340 pixels for 38mm models, and 312 by 390 pixels for 42mm variants. And just like before, the most affordable aluminum options protect their screens with Ion-X strengthened glass, while steel and fancier options – now ceramic instead of gold – get synthetic sapphire crystals.
All of this sounds like business as usual, but there is one key upgrade hitting the Watch's display: with Series 2, the screen is now noticeably brighter; Apple claims twice as bright as the original, hitting an output of 1,000 nits.
That sound likes a big deal, and truthfully it goes a long way towards helping out with daytime visibility. But it would still be nice to see more fine-grained brightness controls in Apple's software. Right now, watchOS offers only a three-way toggle between brightness levels, and there doesn't appear to be a huge difference between the middle and top spots. While that makes it harder than it should be to appreciate all this extra brightness, we didn't really have any problems with visibility during our tests.