Apple and Microsoft courting the Turkish school system for a 15 million tablets order
6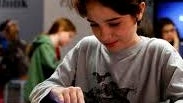 Turkey is planning to supply modern tablets throughout its school system, and the number is a staggering 15 million units needed over the course of four years.
Apple, Microsoft and Intel all appear to be interested in the lucrative government order, but there is a catch - the Turkish economy minister has pounded on the table, demanding that
the slates are produced in Turkey
.
Not that the country doesn't have a burgeoning electronics industry, including home brands that are sold across Europe and Asia, but producing iPads there might be a tough sell as far as Apple is concerned. Cupertino has allegedly offered Turkish companies to make accessories like earphones and covers for its gadgets, but that might not be enough.
Microsoft and Intel, however, wouldn't have that problem.
Windows 8 will be arriving next year
, and tablets are a big part of the strategy, so such a large order could very well jumpstart the platform's visibility in that neck of the woods. Moreover, 15 million kids working with your own software every year is a lot of future clients hooked up, so a Microsoft team is rumored visiting Turkey to discuss the project, called Fatih, further. Intel could also chip in, by a suggested opening of an R&D center in Turkey.
The Android or PlayBook manufacturers are suspiciously missing from the negotiations table, and you can
insert your own HP TouchPad joke
here. Whichever company gets the order, kudos to Turkey for willing to supply its kids with modern technology from the get-go. Yet another nail in the printed book coffin.
source:
Bloomberg