HP to throw $100 million on soothing retailers' pain caused by unsold TouchPads
9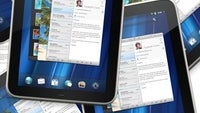 With the HP TouchPad selling considerably worse than anyone at the company would have ever imagined, one might wonder what would retail outlets do with all the leftover units taking up precious space in their warehouses. Well, the manufacturer shed some light on the matter yesterday and stated that
$100 million will be reimbursed to retailers for their unsold HP TouchPad inventory
.
The announcement was made during the company's Q3 earnings report soon after Léo Apotheker, chief executive officer of Hewlett-Packard Corporation, dropped the bomb by stating that
his company was through with webOS tablets and smartphones
. Now, assuming that HP was charging about $400 per unit on average, we can estimate that roughly 250,000 TouchPads are still collecting dust around retailer warehouses nationwide, which lines up with the rumor that
Best Buy still has nearly 245,000 of them
. Of course, these numbers are nothing but a guess and the manufacturer might have shipped the tablet at a much lower price in order to boost sales and gain market share.
HP has been persistently trying to find a way to increase its profits, which have been dropping steadily over the past year, but its low operating margins have left the company struggling against the competition. Initial hopes for the webOS platform and the devices that it would power, the HP TouchPad included, were pretty high as they were viewed as more or less as a lifeline for HP. However, due to poor marketing and low developer support, webOS simply failed to catch up with the market.
With webOS awaiting its uncertain fate, HP might consider dropping TouchPad prices even further, possibly even going below its production cost after a while. As we reported not long ago,
the tablet now bears a permanent $400 price tag
for its 16-gig Wi-Fi-only model and $500 for the 32-gig one at the manufacturer official online store.