Apple wins preliminary injunction on Samsung GALAXY Nexus, can aim for Samsung Galaxy S III next
99+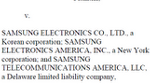 Judge Lucy Koh of the United States District Court for the Northern District of California has
issued a preliminary injunction against the Samsung GALAXY Nexus
, giving Apple what it requested. The Cupertino based firm accused Samsung of infringing on four of its patents in the production of the phone and will have to post a bond of nearly $96 million to get the injunction to take effect. A patent involving Siri and unified search, one of the four that Samsung allegedly infringed upon, met the legal requirements allowing the Judge to order the injunction.
"Accordingly, Apple has shown that it is likely to succeed on the merits at trial in its claims that the Samsung Galaxy Nexus infringes claims 18, 19, and 27 of the '172 [autocorrect] Patent."-Judge Lucy Koh
The scary thing for Samsung is that
Apple can now set its sights on the Samsung Galaxy S III.
Apple was going to add the extremely popular device to this case, as there are two patents involved with the GALAXY Nexus that Apple thinks can stick in court, including the '604 Siri patent. Apple does have a tough decision to make. If it decides to ask for a preliminary injunction against the Samsung Galaxy S III, it will have to postpone the trial of the first lawsuit against Samsung. However, a motion over one patent wouldn't take too long and we would imagine that Apple would relish the opportunity to get sales of the sizzling hot Samsung Galaxy S III halted, even if only temporarily.
"The Court is persuaded by the evidence in the record that the '604 unified search functionality drives consumer demand in a way that affects substantial market share. Even accepting Samsung's argument that the intelligent voice-recognition aspect of Siri, as advertised, also contributes to consumer interest in the iPhone 4S, Apple has shown that the '604 Patented feature is core to Siri's functionality and is thus a but-for driver of demand for Siri. Accordingly, the Court finds that Apple has adequately established the requisite causal nexus between Samsung's alleged infringement of the '604 Patent and Apple's risk of suffering irreparable harm."
source:
FOSSPatents