Best Qi wireless chargers for iPhone 8
16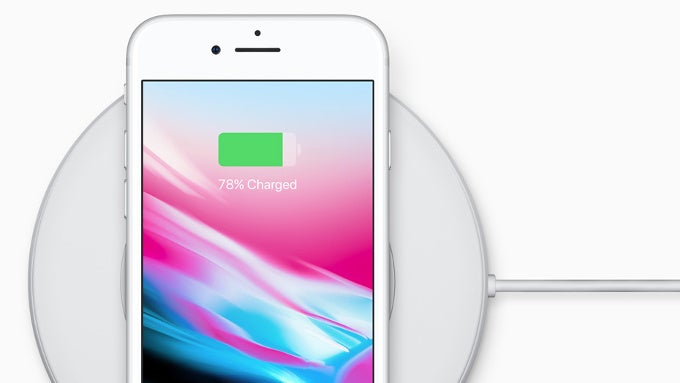 Wireless charging has been around for years: Nokia was among the first companies to adopt it, but Samsung has had it for years as well, just like many other phone makers.
And what about Apple? Well, it has only adopted it with the new glass-back iPhone 8, iPhone 8 Plus and iPhone X, but here is the thing with Apple's adoption of new features: it drives the ecosystem forward.
Despite wireless charging being available for years, it was never quite in the mainstream. Expect this to change with Apple's new iPhones supporting wireless charging. Best of all, Apple is adopting the Qi standard, an open standard that most chargers these days support, so if you have a wireless charger, chances are that it will work with the new iPhones. With this in mind, we take a look at the best wireless chargers for the iPhone 8 and iPhone X. And yes, of course, these will also work with other Qi-enabled phones.
*Note that Apple's iPhones are currently wirelessly charged at 7.5 watts, while other competing products support the new Qi standard that delivers up to 15 watts of power for double the charging speeds.
mophie wireless charging base
The tiny, hockey-puck shaped Mophie wireless charging base is a great wireless charger that does not take up too much space. It is also one of two promoted by Apple and sold in Apple Stores. It features a non-slip surface and comes with a wall adapter and a 5-foot cable. The charger supports speeds of up to 7.5 watts for compatible devices (which is not too fast).
Belkin Boost Up Wireless Charging Pad
The second Apple-endorsed wireless charger is the Belkin Boost Up. It comes with a similar round design, features an LED light that notifies you when the phone is charging, features two rubber circles to prevent your phone from slipping away, and delivers a similar 7.5 watts of power. As with most wireless chargers, this one is able to charge the new iPhones through charges up to 3mm thick.
Apple AirPower
Price: unknown | Release date: 2018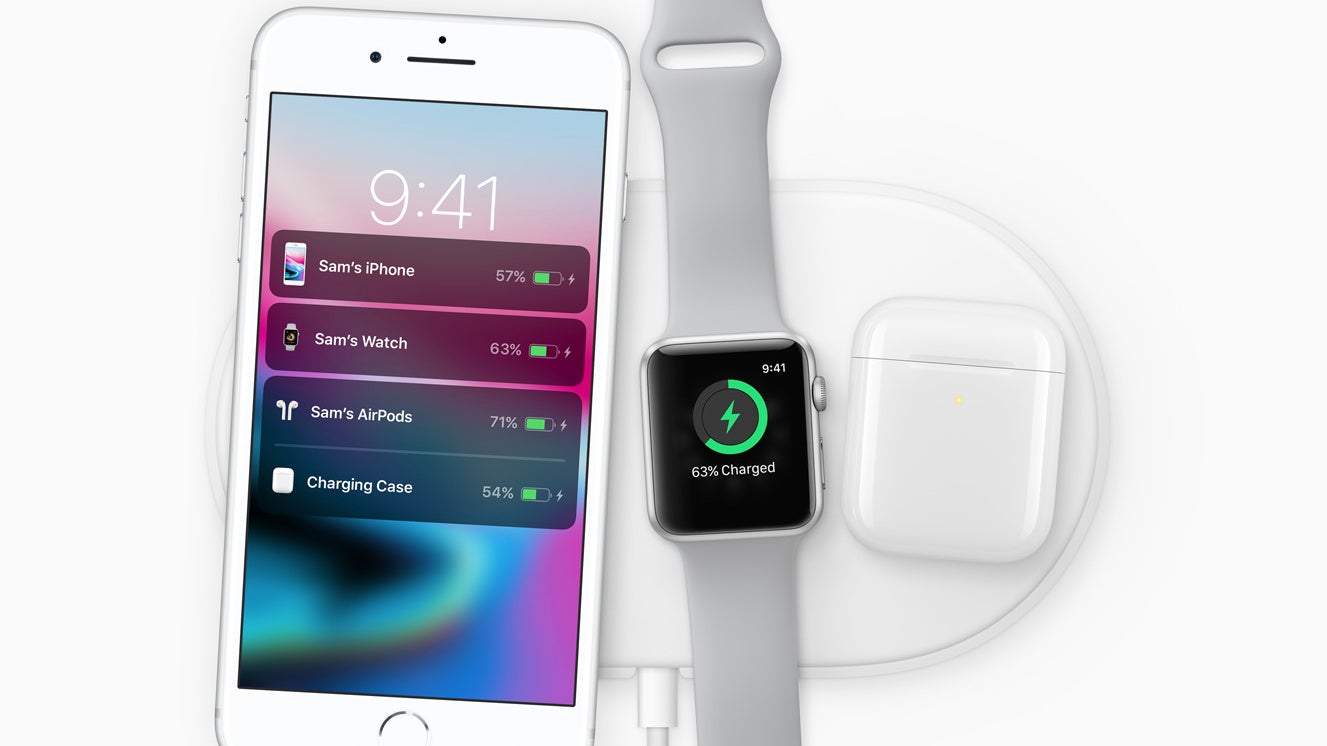 Apple's AirPower is certainly the most advances wireless charger out there. While it's build on the Qi standard, Apple brings its custom DNA to it and allows charging up to three devices on it simultaneously, so that you can place your iPhone, AirPods (new wireless charging-enabled case required) and Apple Watch and easily top them up. Apple has only teased the AirPower charger yet, providing photographs, but not much else in terms of specifics. We don't know the price - but we expect it will be pricier than most chargers now, but we do know that Apple plans to bring it to market some time during 2018.
Samsung Fast Charge Wireless Charging Convertible
Samsung's fast convertible charger is - somewhat ironically - one of the finest wireless chargers for the new iPhones. It looks very lush and stylish with its leather-like finish, and it double as a stand via the rotating base. There is an LED indicator here that shows when the device is properly centered and charging.
Ikea Wireless Chargers
IKEA has a whole lineup of awesome chargers that blend seemlessly with furniture and some of them have a sleek, wooden design and look really great. As you can expect with IKEA products, many of them are very affordable at prices starting from $30.
Tylt Vu Blade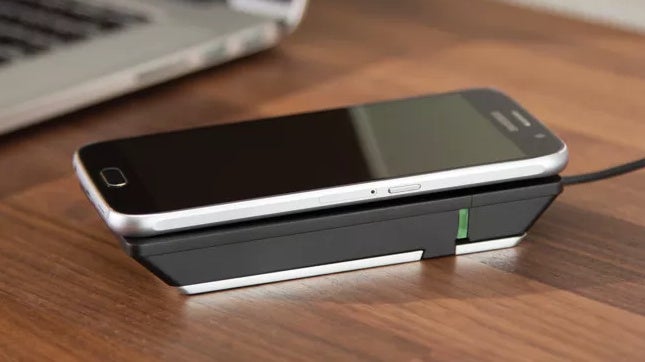 Tylt has been around for a while and the Vu Blade is its best charger. You can also get the Tylt Vu, a Kickstarter success from the past, for just $30. The Vu Blade rotates and can be adjusted, but it's also pricier. So choose the one that fits your needs better, but in terms of charging both do the job.
Incipio Ghost Qi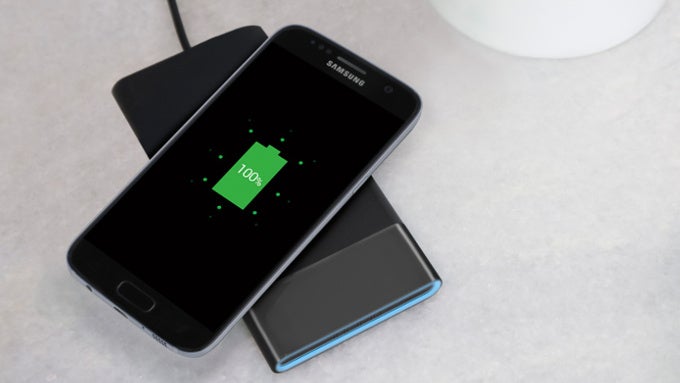 The Ghost Qi by Incipio looks different than the rest and features both an LED and audio cues to notify you when the charge has started. It's got a non-slippery rubbery surface that also ensures your iPhone will not accidentally slip. It features three internal coils that connect wirelessly to your Qi-enabled device. One of its greatest features is drop and go: you don't need to center your device to start charging it.
Spigen F300W Wireless Charging Pad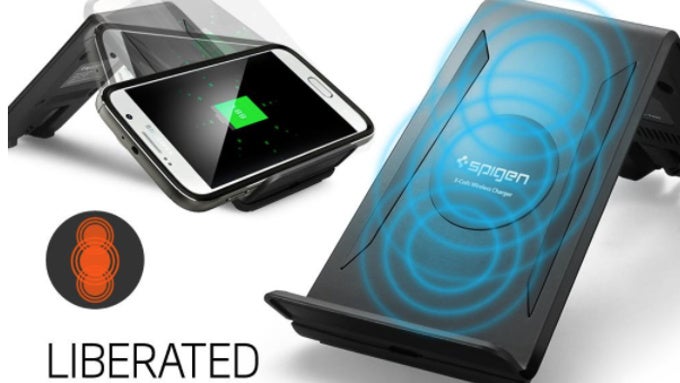 The Spigen F300W wireless charging dock is another affordable wireless charger with an LED light that indicates when the charger is operating for at-a-glance convenience. Its stand design and free positioning technology liberates the device from wires and restricted placements, allowing you to prop and charge in a vertical or horizontal position.