Apple AirPower Qi pad seen in Vienna airport turns out to be a fake
10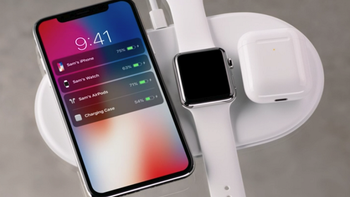 A traveler arriving back home in Vienna, snapped photos of what looked like Apple's multiple device Qi charging pad on sale at the Vienna Airport arrival hall. The gentleman, a man named Peter Allan, tweeted the photo and stated that the AirPower Qi charging pad was priced at $200 at the airport. As it turns out, it was a fake. According to a report published on Sunday afternoon, some of the packaging on other Apple products seen in the photo appears off, which indicates that the products inside them are not legit. For example, the Chinese label on the box for the Lightning to headphone jack adapter seen in the photo is off. Which places into doubt the authenticity of all the "Apple" products being sold by this vendor.
When the AirPower Qi charging pad does show up sometime this year, it will have enough room to charge an
Apple iPhone X
, an
Apple iPhone 8
and an
Apple Watch
(or an AirPods
wireless charging
case) all at the same time. When put on a pad, each device will emit a special tone; when connected to the charging system, animation will appear on a device's screen.
The same fake pad has been discovered on eBay where it is being sold as a "3 in 1 Qi Wireless Charging Charger Pad for
iPhone X
iPhone 8
Watch 2/3 AirPower." This product is priced at $50 Australian Dollars, equivalent to $38 USD at current exchange rates. Right away this tells you that this is not a real Apple product. The listing says that the pad is unbranded, another good clue.
Late last year, there was talk that the real AirPower Qi charging pad
will cost close to $200
. However, until Apple releases the product, the actual price is unknown.
source:
@ThePeterAllan
via
AppleInsider