Apple iPhone X vs iPhone 8 vs iPhone 8 Plus
47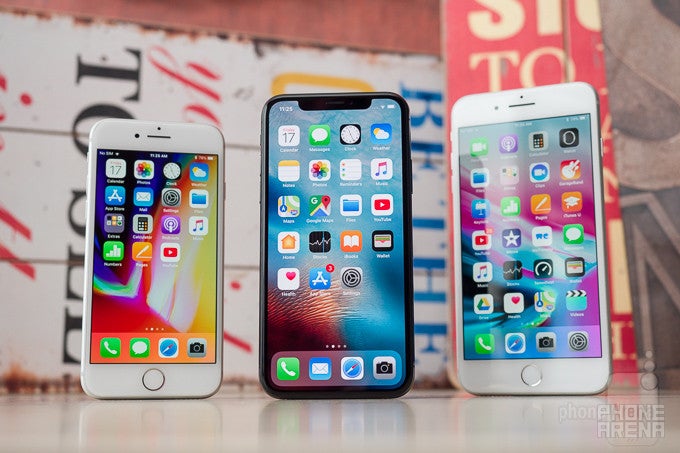 Apple has three new iPhones this year: the
iPhone X
, the
iPhone 8
and the
iPhone 8 Plus
.
While all of them run on iOS and have identical hardware inside, only one of them feels genuinely new and that is the
iPhone X
.
It has a fresh new "all-screen" design (with a notch!), it has a new gesture-driven interface, and it has Face ID. And its price starts at $1,000.
How does it feel using it in comparison with the iPhone 8 and iPhone 8 Plus? Are there any differences in actual performance, camera quality and battery life? We've spent the last few days living with these three iPhones to find out.
Design
Big screen, compact body and a stunning design on the iPhone X almost made us forget the notch. The 8 and 8 Plus feel a bit boring.
For years now, we've had the small iPhone and the "plus" model, an oversized 5.5" phone bigger than most other big phones. What was sorely missing was a mid-sized option, a model with a larger screen, but one that does not feel too big to carry around in a pocket. The iPhone X fits that spot perfectly. And its size might be one of the biggest advantages of a device that you carry with you every day.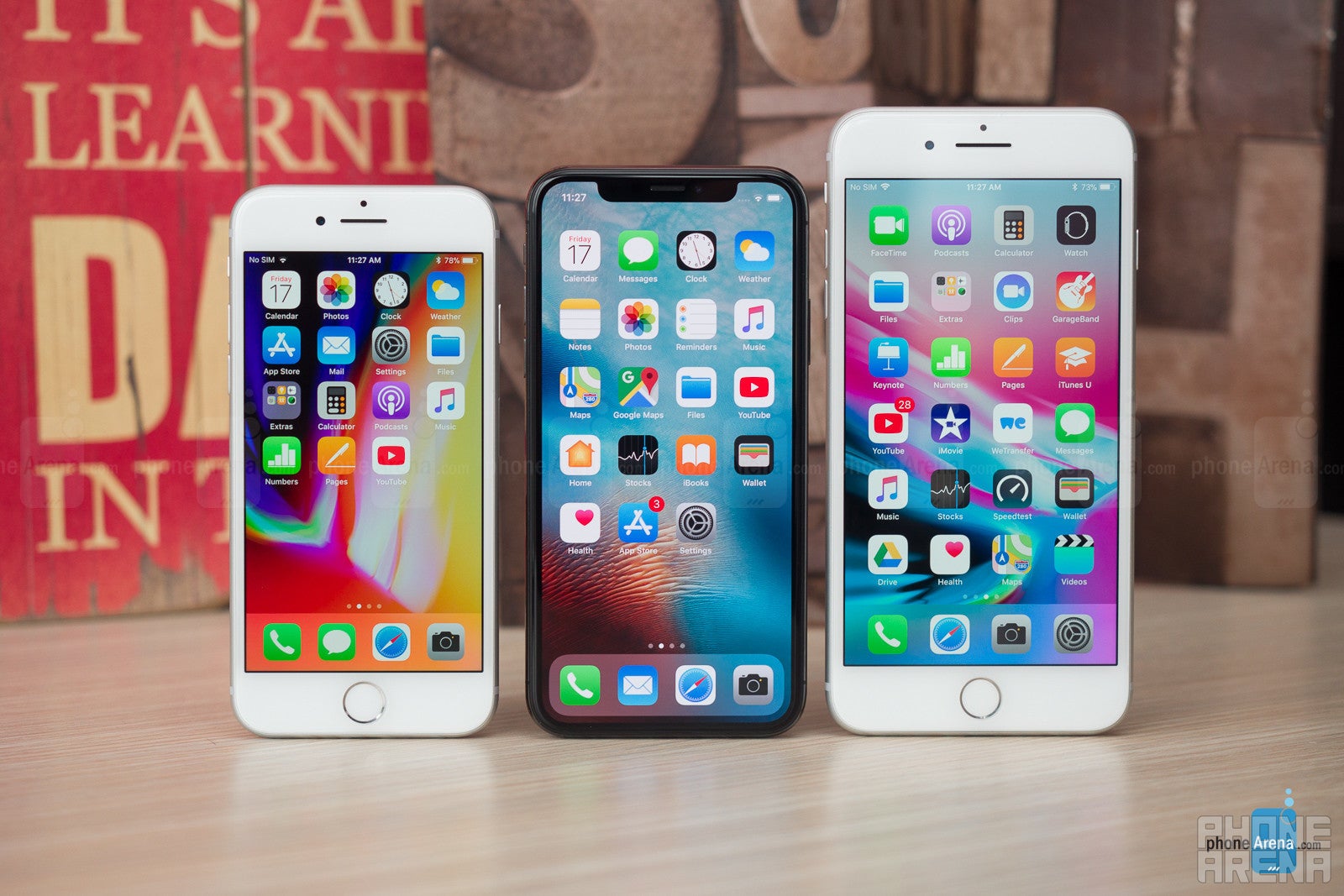 Here is the actual physical sizes of all three:
iPhone 8: 5.45 x 2.65 x 0.29 inches (138.4 x 67.3 x 7.3 mm)
iPhone X: 6.24 x 3.07 x 0.30 inches (143.6 x 70.9 x 7.7 mm)
iPhone 8 Plus: 6.24 x 3.07 x 0.30 inches (158.4 x 78.1 x 7.5 mm)
The iPhone 8 Plus is also the heaviest of them all. It weighs 7.13 oz (202 g), which makes it less comfortable to carry in a pocket. The iPhone X weighs a more reasonable 6.14 oz (174 g), while the iPhone 8 is the lightest and most comfortable to carry in a pocket at 5.22 oz (148 g).
Another interesting change in the iPhone X is that it has a super-sized lock button on the right side. We find this very convenient: it's easier to find and press, and is just more convenient for a button that you press tens or hundreds of times each day.
We also like the shiny stainless steel frame of the iPhone X, a distinct element over the matte aluminum finish on the 8 and the 8 Plus. All phones have a stylish glass back, but you only have two colors - gray and silver/white for the X, while the 8 and 8 Plus also have a stylish gold finish.
All three new iPhones carry IP67 water and dust protection rating. There is no difference in the level of water protection between them: all can withstand immersion in up to 3-feet deep water for as long as 30 minutes.
Of course, the biggest difference between these three iPhones is the display: the "all-screen" iPhone X is a stark contrast to the big bezels on the iPhone 8 and 8 Plus (but more on that later).
Face ID vs Touch ID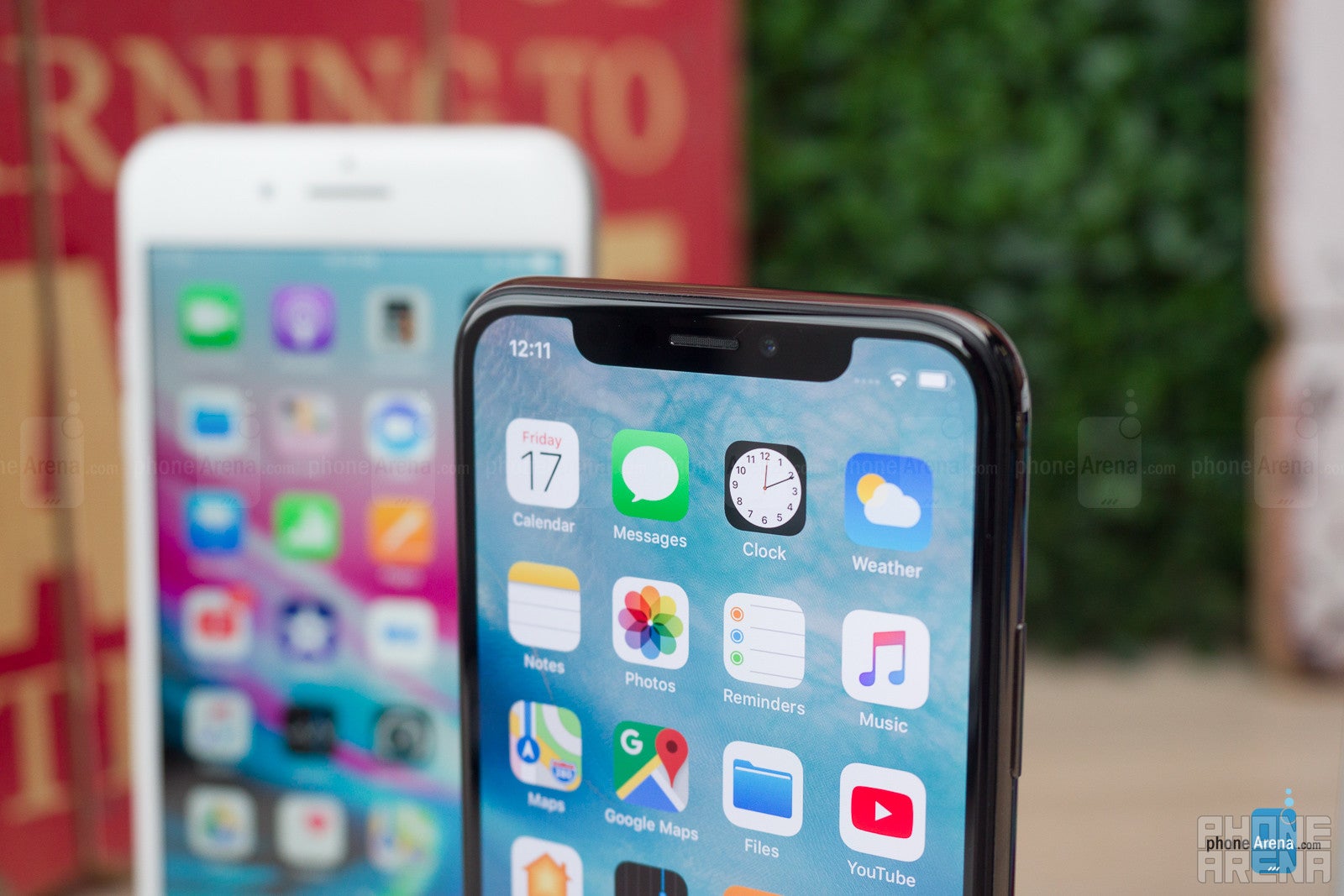 Since it's all screen on the front, there is no home button on the iPhone X and there is no Touch ID fingerprint scanner either. Instead, to securely unlock your phone, you have Face ID, a brand new system that scans your face and recognizes if it's you or not.
How does Face ID work?
Face ID is a system completely integrated in the front camera panel, the so called notch. In it is more than just a camera for selfies, but also an infrared light and a dot projector. Here is how it works: you lift up your phone and the camera looks for a face (if it's dark, the IR light flashes to let the camera see in the dark). If the camera detects a face, the dot projector projects some 30,000 dots onto your face, creating a complete 3D map of your face. The result of this 3D scan is sent to a secure chip on the iPhone (the scan of your face is never sent online) where it is compared to the face that you have already registered. If there is a match, a tiny icon on the iPhone X lockscreen unlocks and you just swipe up from the bottom to unlock the phone. This all happens in a split second: the idea is that you just lift up the phone and swipe up, you don't need to wait to see the lock icon unlock, it all should happen in the background. If your face is not recognized, you will feel a slight vibration and after about a second, you will get to type your PIN code to log in.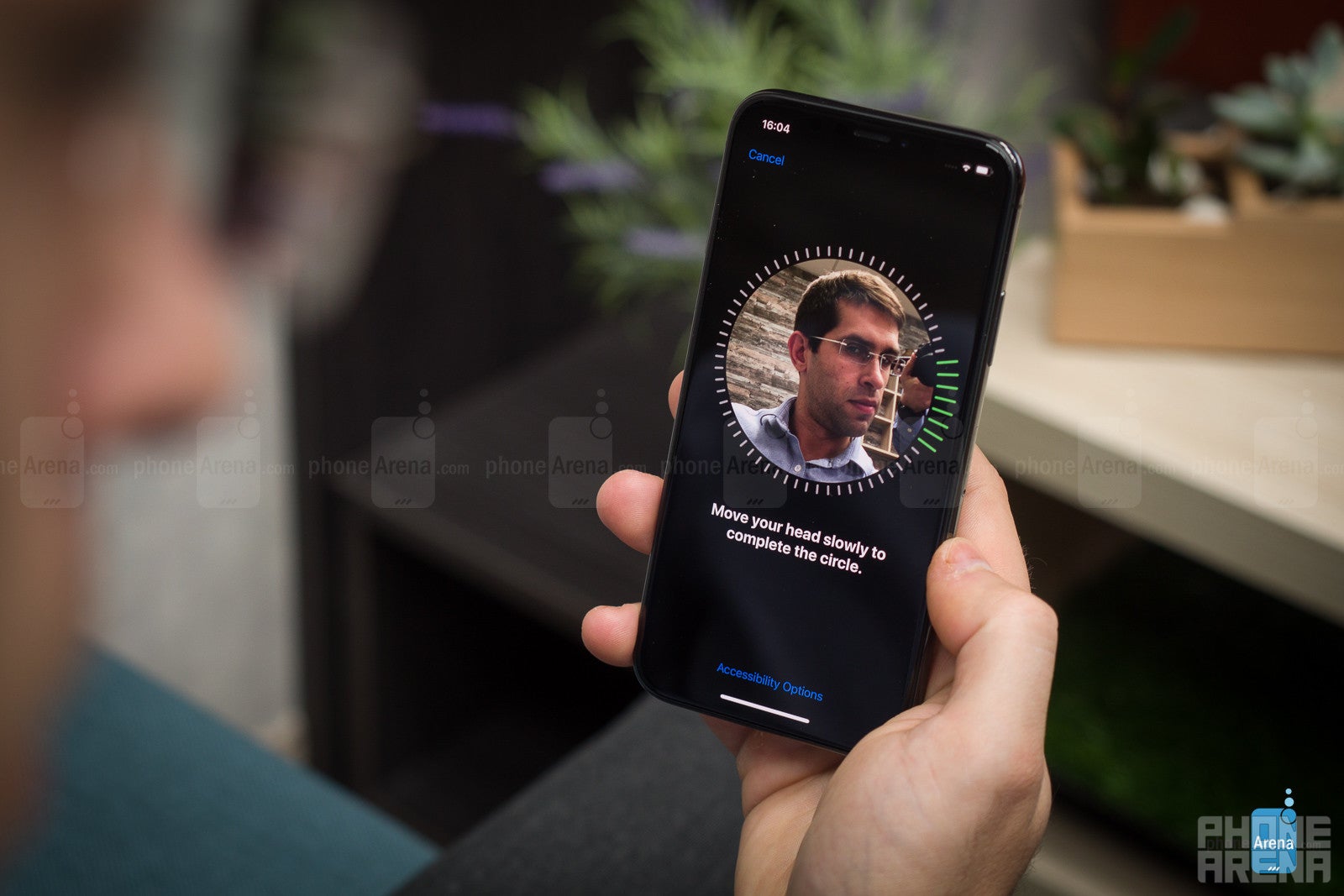 Setting up Face ID
Apple say Face ID is much more secure than the older Touch ID fingerprint recognition system. The chances of cracking Face ID are 1 in a million versus 1 in 50,000 for Touch ID, according to Apple. And since Face ID uses a 3D scan, you cannot just show the phone a photo of its owner and fool it into unlocking. However, we have already seen cybersecurity firm Bkav create a $150 mask that can successfully fool Face ID, so as any system, this one is not perfect either.
We have also compared Face ID vs Touch ID speeds. And while Face ID is impressively accurate for a brand new security system, we feel like Touch ID works more often and unlocks the iPhone a bit faster.
Display
OLED shows the finest colors, it looks stunning. But we need more time to know whether it will suffer from burn-in. iPhone 8 and 8 Plus have reliable and great-looking LCD screens.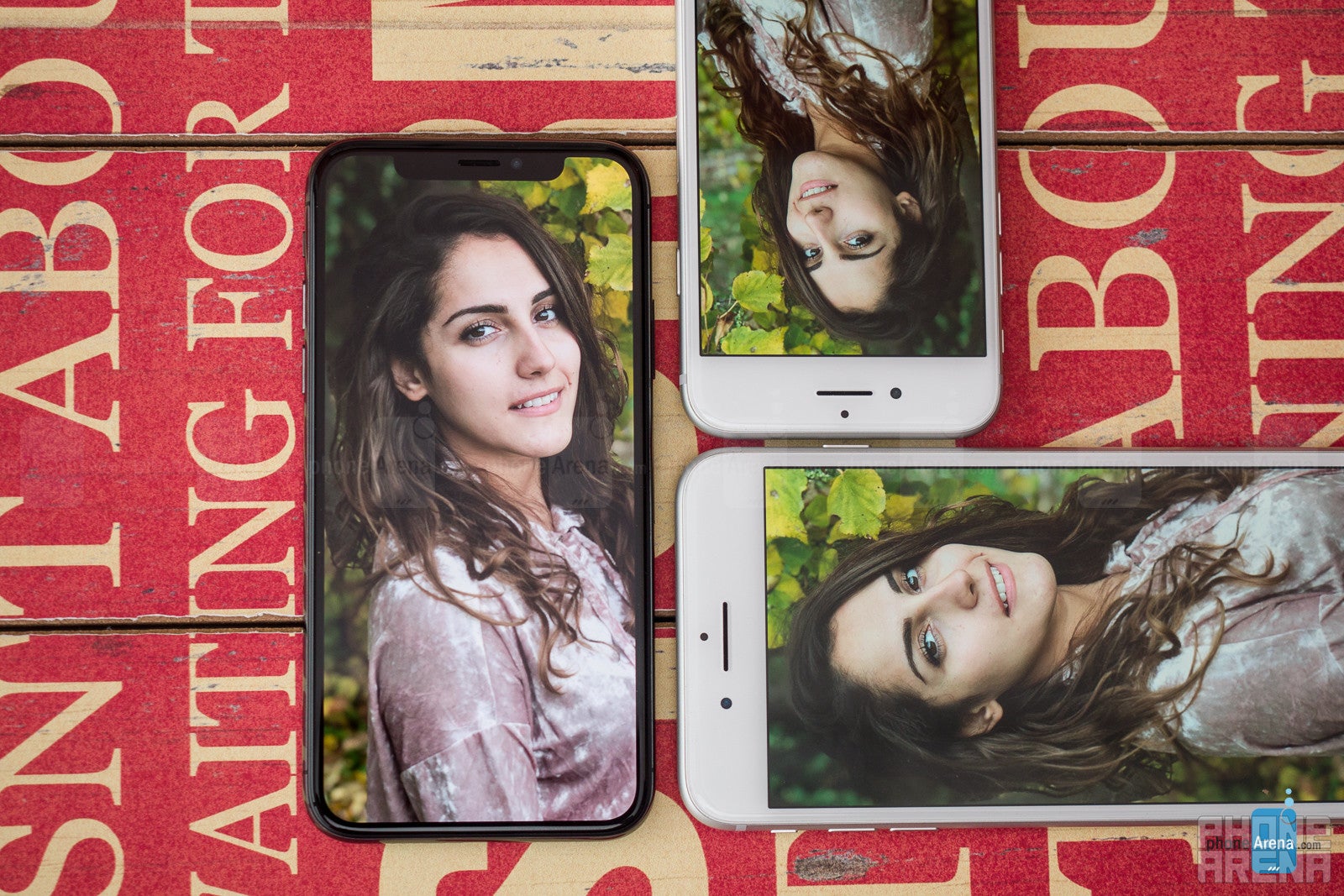 The iPhone X is the first bezel-less screen in an iPhone and the first one using OLED technology instead of the traditional LCD used on all other iPhones, including the 8 and the 8 Plus.
First, let's make one thing clear: the iPhone X has a 5.8-inch screen, but its actual area is smaller than the 5.5-inch iPhone 8 Plus. The reason for this is the different aspect ratio: the 8 Plus has a traditional 16:9 orientation, while the X features a taller, 2.17:1 proportion. You can read a detailed explanation of this
here
.
In real life, this means that when you watch videos on the iPhone 8 Plus, you will be able to see a lot more than on the X. In longer lists or web pages, though, the new iPhone X is able to show more content.
What about the smallest of them all, the iPhone 8? It has a 4.7-inch 16:9 LCD screen that shows less information than both others. However, if you deal with apps that are not yet optimized for the iPhone X and still show up in 16:9 orientation with black bars on the top and bottom, you have about the same screen space on the X and the iPhone 8.
Here is a detailed look at
which screen fits more content in real life
!
What about colors?
What you don't find in a spec table is how well screens show color. The iPhone X with its new OLED screen has a few advantages over the 8 and 8 Plus: it has more vibrant colors, deeper blacks and better contrast, all combining together for more impressive visual qualities, albeit not by a huge margin. Its screen is also noticeably brighter and more visible outdoors. But it also has a few downsides: if you tilt the phone you will notice a slight shift in colors towards the blue gamut. This is not a huge issue as it is on the Google Pixel 2 XL, but it's more noticeable than on the iPhone 8 and 8 Plus. Then, there is one other possible issue: burn-in.
What is burn-in?
Burn-in is an issue that affects OLED displays. Since OLED screens illuminate every single pixel individually, if you do show bright colors in one area, the pixels there can "burn out". This means that if you leave a black-and-white checkerboard as the wallpapers on the iPhone X for a few weeks, and then change the image to something else, those white squares will "burn in" and will be slightly visible all the time! Apple says it has taken pre-cautions, but admits that no OLED display is immune to burn-in issues. How long does it take until burn-in appears? We see no traces of burn-in on our iPhone so far and no other reports about it, so we hope for the best.
The iPhone 8 and 8 Plus with their LCD screens do not suffer from such issues.
Display measurements and quality
Interface
iOS 11 with and without gestures.
For the first time in years, Apple is criticized for iOS 11 coming with some performance issues. This, however, applies to older iPhones, while the newest iPhone X, 8 and 8 Plus run about as buttery smoothly as in the past. Apple is working on fixing issues for older iPhones, but you won't see any slow-downs with its newest iPhones.
All three iPhones run iOS 11, but the big difference is in the way you navigate around: you use the home button on the iPhone 8 and iPhone 8 Plus, while on the iPhone X you have new gestures for everything. Here is a quick run-down of the gestures you need to know about:
Swipe up from the bottom to go to the home screen
Swipe up from the bottom and pause halfway for Multitasking
Long press a card in the Multitasking view and then swipe it up or press the little red button to force close an app. Tap anywhere on the bottom part to go back to the home screen
Swipe left or right on the bottom part (the home indicator line) to quickly switch between most recent apps
Swipe down from the top right corner ("ear") for Control Center
Swipe down from any other place at the top for Notification Center
It took us a couple of days to get used to this navigation, but it feels reliable and fluid, and it does not waste any screen space for on-screen keys (like Android does), so gestures do seem like a great solution for an "all-screen" phone like the iPhone X.
Do we miss the home button? Not much, quite honestly. This is all because Apple has implemented the gestures in iPhone X well enough and they work reliably.
Recommended Stories