Apple AirPods now in transit, heading to customers who pre-ordered the wireless earphones
16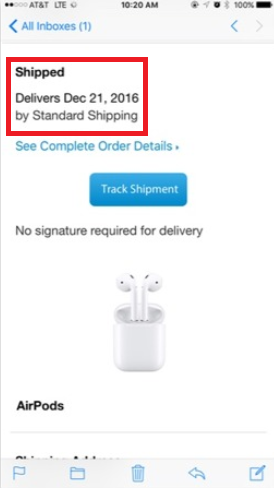 Orders for the Apple AirPods are now shipping
The Apple AirPods are now being shipped out to those who pre-ordered the Bluetooth powered wireless earphones. Last week, Apple started accepting pre-orders for the product roughly two months after the device was expected to be launched. While Apple never explained the reason for the delay,
one theory said that the individual ear pieces were having problems capturing sound independently
without the wire that usually connects the two in-ear pieces. Another issue with background noise was also rumored to be part of the reason for the delay.
All that is in the past now as those who pre-ordered the AirPods at $159.99 a pop are receiving shipping notifications. Apple promised delivery of the pre-orders by December 21st. Orders placed for the AirPods now from Apple will take six weeks to ship.
The AirPods pair easily with an iPhone, and while they will connect with a non iOS device, the process is not as streamlined. The product is powered by Apple's W1 chip which handles the connection between Apple devices. The AirPods switch seamlessly between the iPhone, iPad and the Apple Watch.
source:
AppleInsider