Apple A9 chips go against the Galaxy S7 chips: win some, lose some
99+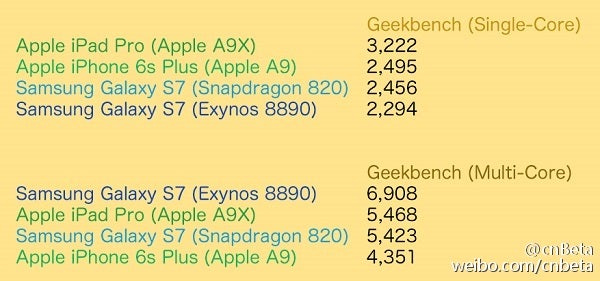 The
Samsung Galaxy S7
, in all likelihood, will come powered by two different chipsets - Samsung's own
Exynos 8890
, and Qualcomm's latest
Snapdragon 820
- if all rumors so far are any indication. The chip that the S7 will ship with, would apparently depend on the region,
with the US getting the Snapdragon versions
, as usual.
In any case, benchmarks of these latest processors from
Samsung
and
Qualcomm
have already been popping up with eyewatering results, but we haven't seen their performance directly compared with Apple's finest, until now. In the leaked table above, the Exynos 8890 and Snapdragono 820, as they will allegedly be found in the Galaxy S7, have been pitted against not only against the Apple A9 chip in the
iPhone 6s
and
6s Plus
, but also against Apple's brawnier
9X
, which is used in its most powerful tablet to date, the
iPad Pro
.
The A9X is not only clocked higher than the A9, at 2.26 GHz vs 1.85 GHz maximums per core, but it also sports double the memory bandwidth, and a
blazing 12-core GPU
, too. All these advantages combined make for a top score on the single-core Geekbench test, and a pretty substantial performance on the multi-core test. The octa-core Exynos scores are much higher in the multi-core test, though, as can be expected. Looking at those results, it's hard to fathom what any mobile app or even game can throw at these chips without being chewed up and spat out for breakfast.