Another iOS 11 autocorrect bug affects the words "it" and "is"
15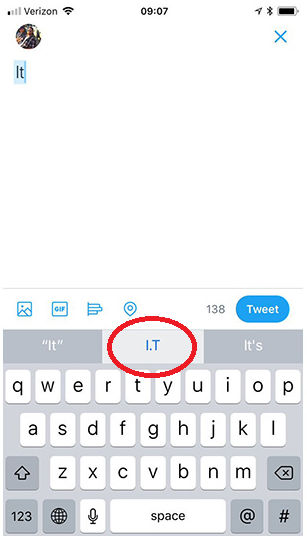 The latest iOS 11 autocorrect bug happens with the words it and is"&nbsp
Remember the recent autocorrect issue that Apple users with iOS 11 suffered with? Every time the letter "I" was typed into a message, the autocorrect would suggest "A[?]." This became such a big issue that
Ohio State Buckeye fans made fun of the bug in front of a sold out Ohio Stadium
with 105,000 fans in the stands. Certain students were holding up cards that spelled out OHIO and when they got to the letter "I", the cards formed an "A[?]." That bug was fixed by Apple.
Now, another autocorrect bug is afflicting iOS 11 users. Type the word "it" on your iOS 11 powered Apple mobile device and the word is automatically corrected to "I.T." Rebooting the phone doesn't help. One workaround is to go to
Settings
>
General
>
Keyboard
>
Text Replacement
and make "it" as both the phrase and shortcut. And considering that the same issue has shown up with the word "is" getting an autocorrect suggestion to "I.S," you might want to do the above workaround a second time with "is" being both the phrase and shortcut.
Since this doesn't always work, you can just turn off autocorrection altogether by going to
Settings
>
General
>
Keyboard.
Toggle off autocorrect.Once Apple sends out a bug fix, you can then turn autocorrect back on.
source:
@Sean_w_924
via
MacRumors