Apple gets trolled in front of 105,000 Buckeye fans in Ohio Stadium
35
Ohio State Buckeye fans took a shot at Apple during yesterday's game against Michigan State at Ohio Stadium. In the stands were 105,000 fans watching the 11th-ranked Buckeyes demolish the Spartans 48-3. Also taking a licking at the game yesterday was Apple, thanks to several students who were participating in a motivational stunt in the stands. These fans were holding up cards to create the letters that spell "OHIO." This is done to whip up the home crowd, which in turn gets the home team going.
Yesterday, when the fans were spelling out "OHIO," the letter "I" was replaced by "A[?]," making fun of a bug found on iOS 11.1. Every time the letter "I" was typed into a message, the autocorrect would suggest "A[?]." While Apple has since fixed the bug, it appears that Ohio State fans holding and turning the cards are still suffering from its effects.
Kudos to the Ohio State fans who came up with a hilarious stunt. You can watch the card stunt as it happened by clicking on the video at the top of this story. The clip shows the joke going down twice. The first time was in regular speed, and the second time was in slow motion which explains the monster-like vocals in the background.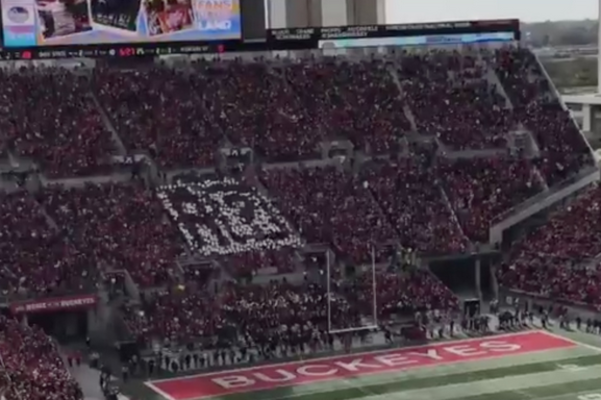 Apple gets trolled in front of 105,000 at Ohio Stadium
source:
WatchGame
via
TheVerge
Recommended Stories