Android's design team talks about their favorites in app design
3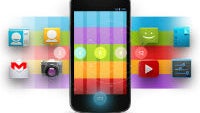 Every few weeks or so, the Android Developers YouTube channel will talk about Android design. Mostly, the talks are about best practices, and various more technical ways to make your app feel more at home on Google's platform. But, this week the Android design team is taking a different angle on the topic and talking about their favorite app designs in the Play Store.
The video is fairly long (as are all of the Android Developer videos, but there are some good bits in there. Not surprisingly, the team talks about the
Timely
app, which is widely regarded as one of the best designed apps on any platform, not just Android. The team also gives its Google teammates a pat on the back by talking about the new
Google Play Newsstand
app (although we have mentioned that there are some
awkward design choices
in that app), and also goes on to talk about Foursquare, Etsy, and other apps.
Overall, it's a pretty interesting talk about Android design, the current trends, and best practices. It's definitely worth a watch if you're interested in design at all.